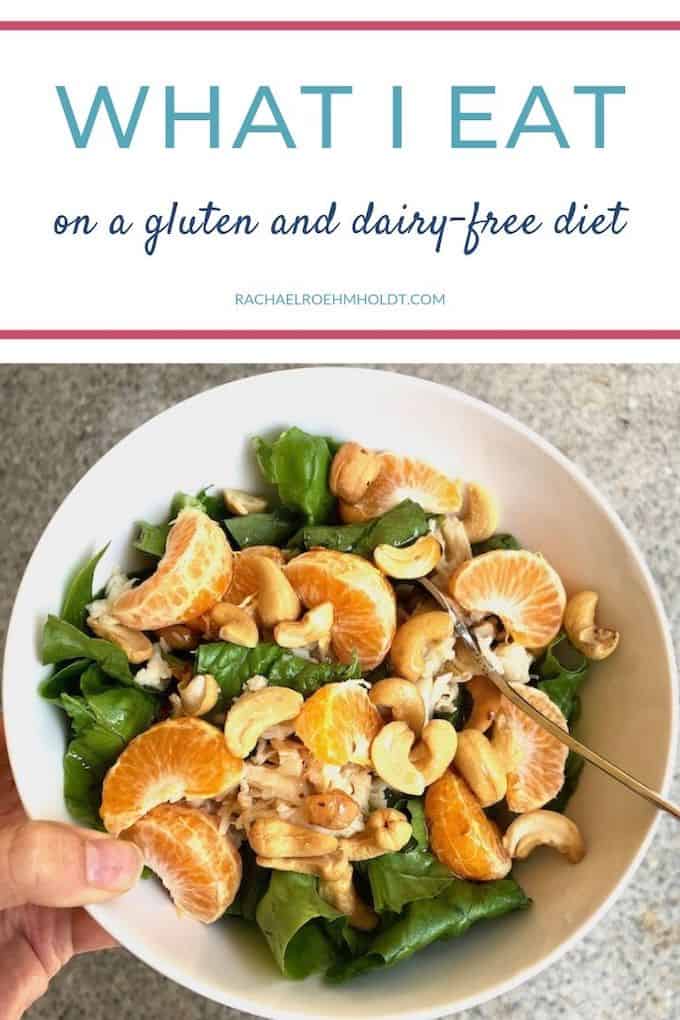 Do you wonder what to eat on a gluten and dairy-free diet? Check out this post, where I take you through every single thing that made it to my mouth on a random May day to get some ideas as to what a typical day following this diet looks like.
People often ask me: "So what do you actually eat on a gluten and dairy-free diet?" After I've been eating this way for so many years, it seems silly that someone would want insight into what I eat throughout the day. I don't feel all that interesting or what I eat isn't all that exciting, but I've learned that even if I don't find it all that engrossing, it might help others see what a typical day looks like in terms of meals.
So if this helps you, great. If not, #sorrynotsorry for writing a blog post that's kind of a play by play as to what goes in my mouth on a typical Thursday.
Before I get into the specific things I ate, there's always a few notes I think are important to make sure we're all on the same page and so I don't get comments later asking about things that just aren't that important to me:
This is what I ate on a typical Thursday in late May. This is representative as to how "balanced" my gluten and dairy-free diet is and the amounts and servings of what I eat.
I do my best to get as many greens and healthy foods into my body as possible, but I also love me some iced coffee on warm days.
I don't count calories, carbs, macros, or really anything for that matter. I just eat what feels good that day, and try to balance things out as I go along. I rely on simply what sounds good or what feels good to determine what I'm going to eat. Sometimes my diet feels balanced, and other days I know I need more greens/protein/fat, because of how I feel in my body that day.
I'm a full-time stay-at-home mom who works in the 2 hour window that my son is at preschool. On this particular day, I started my day with a workout, got myself ready for the day, went to Target, played at the park, took my son to preschool, ate lunch, worked at my computer, picked my son up, did some yard work and house chores, made dinner, had family time in the backyard, then got my son ready for bed, spent time with my husband, and went to bed – to start it all over again. This is a fairly typical day for us, which is why I felt like it was a good day to highlight.
I'm not open to comments or questions regarding why I chose to eat what I chose on this particular day, so please be respectful at the bottom of the post when you have the ability to comment.
So now that we're all on the same page – here's what I ate on a late May Thursday….
Gluten and Dairy-free Breakfast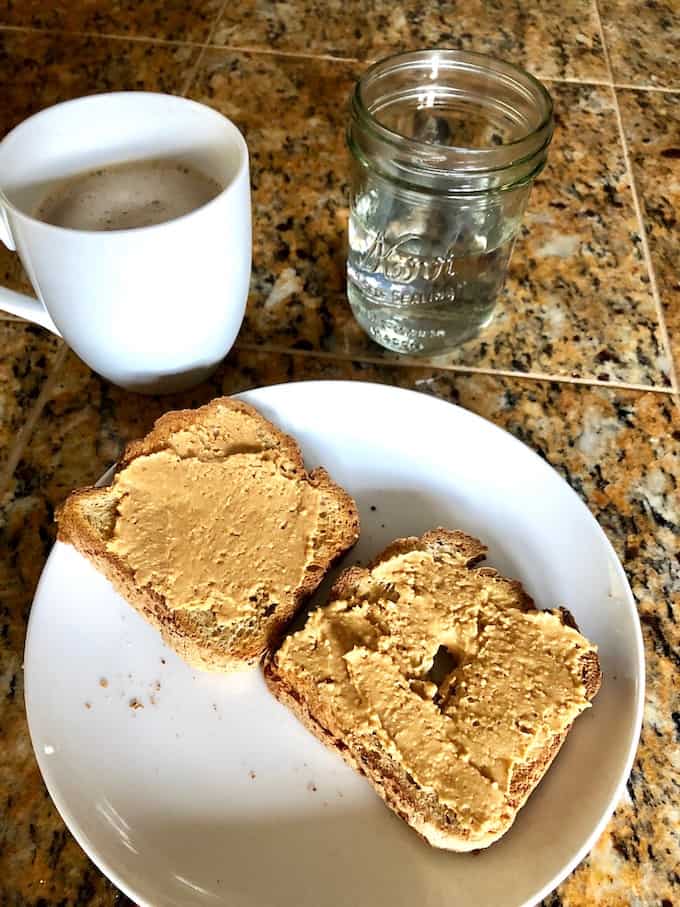 I started my day off with a workout, and was feeling pretty hungry. I made myself some decaf coffee with some So Delicious coconut creamer – a mixture of two flavors vanilla and original.
I also had two pieces of gluten-free toast with peanut butter on them. The peanut butter is from a grinding machine we have at my local grocery store that allows you to buy it in bulk – and it is my FAVORITE thing about shopping every week. I made these two pieces of toast, but about ¾ of the way through my meal, my son asked for the rest and I was full, so I handed half a slice over to him.
I finished it off with a big mason jar full of water. Each of these jars holds 2 cups, so I felt pretty good about staying hydrated after my workout and at the beginning of the day.
My Daily Supplements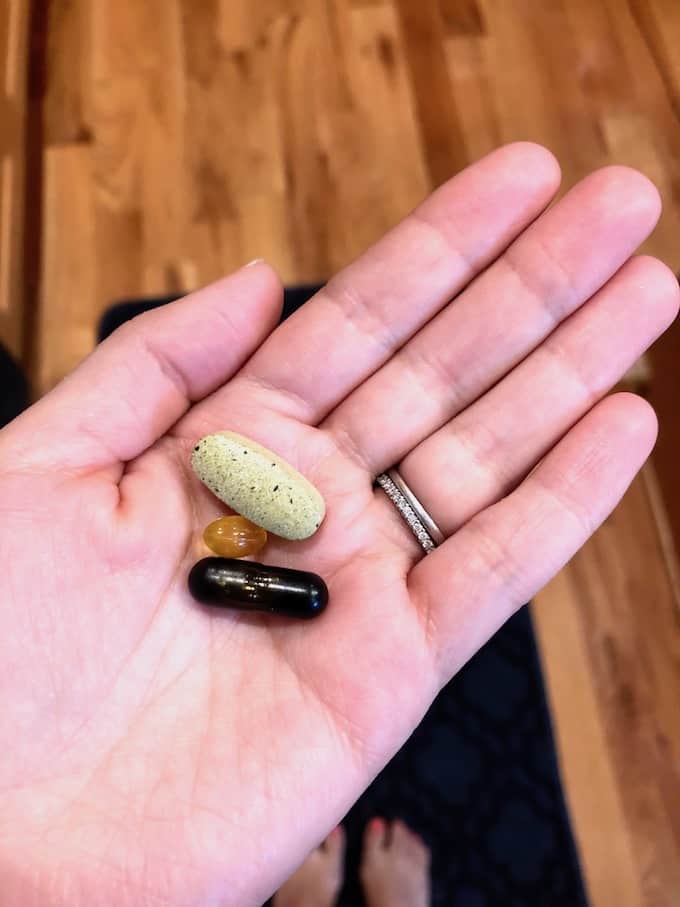 After breakfast, I take my supplements. For now, I take a multivitamin, vitamin D supplement, and a Vitex berry supplement to help keep my hormones regular. At a different part of my cycle, I also add in Evening Primrose Oil to help with PMS symptoms.
Gluten and Dairy-free Lunch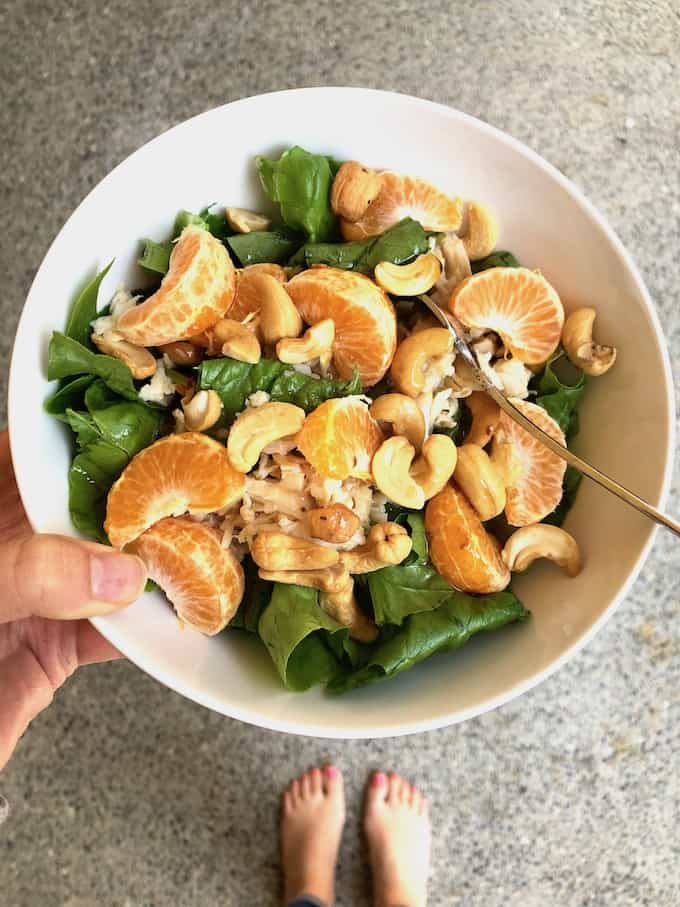 I had just come home from taking my son to school, and while most days I try to eat lunch with him pretty early so I can get straight to work when I get home. On this day, we were out of the house at the park, so I packed him a lunch to eat at the park, and got lunch when I made it home after drop off.
I grabbed a few leaves of lettuce from our garden – Romaine, Summer Bibb lettuce, and spinach, rinsed and spun it up, tore the leaves, and added it to a bowl.
Then I added some leftover canned chicken we had in the fridge. I get this canned chicken at Costco – it's maybe not the healthiest option when I could just be eating home cooked chicken, but in a pinch and for lunch, it suits the bill.
Next, I added a mandarin orange after peeling it and separating the pieces.
I topped it all with some roasted cashews and a homemade Asian-style dressing. I didn't have a recipe for this, I just threw a couple ingredients into a measuring cup, whisked it, and tossed in on the salad before taking the photo. I wound up adding rice vinegar, a pinch of sugar, toasted sesame oil, a dash of tamari soy sauce, and a pinch of red pepper flakes. It was actually pretty good!
After lunch, my husband (who works from home) told me he was heading to get an iced coffee and brought me back an iced vanilla latte – decaf double with almond milk.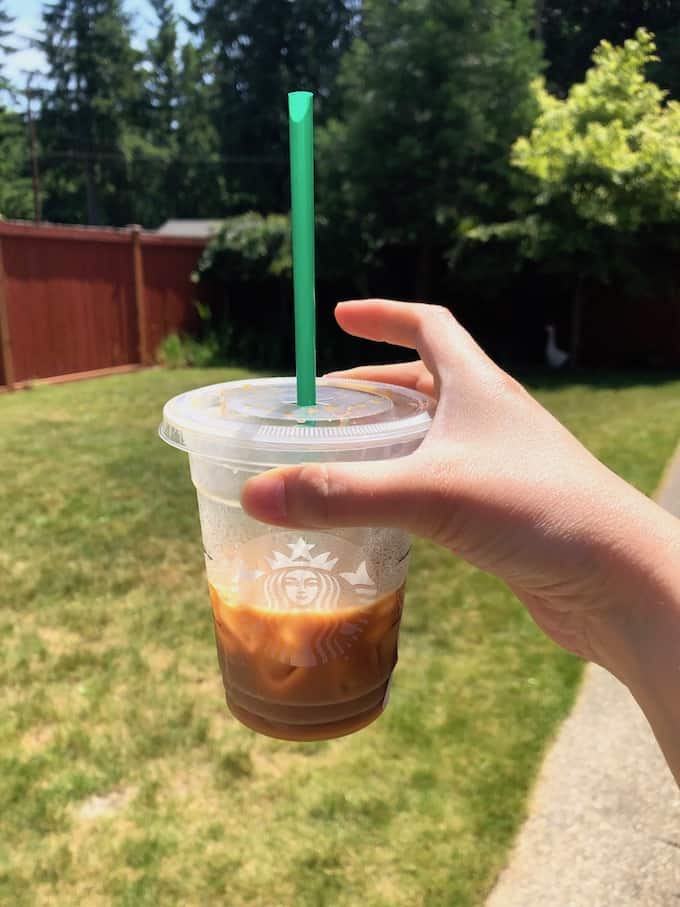 I decided that since it was so beautiful out, it was time to move outside and work on the outdoor patio table to make the most of the sunshine before having to go get my son at school.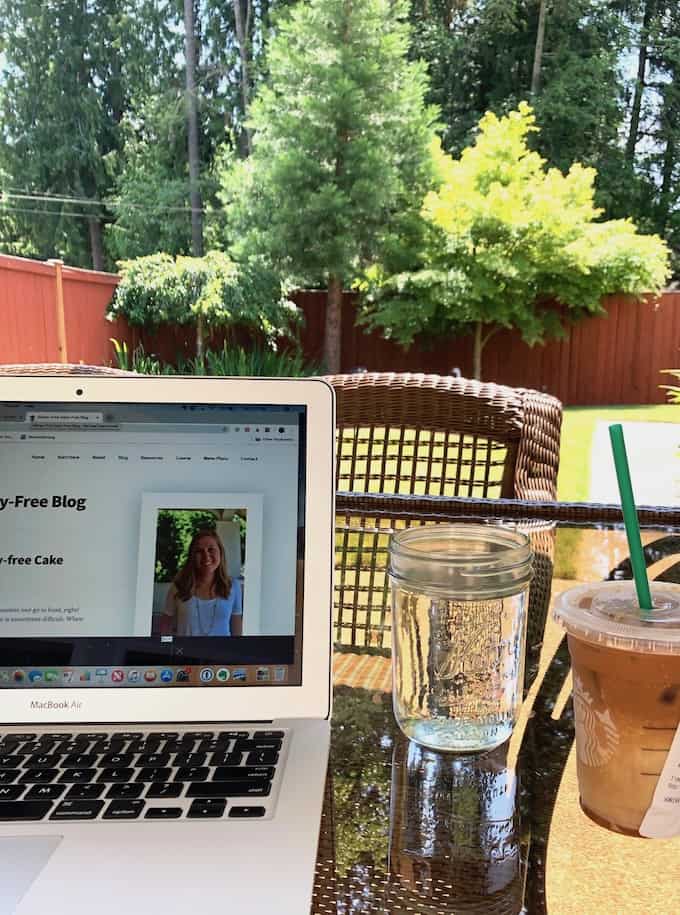 Gluten and Dairy-free Dinner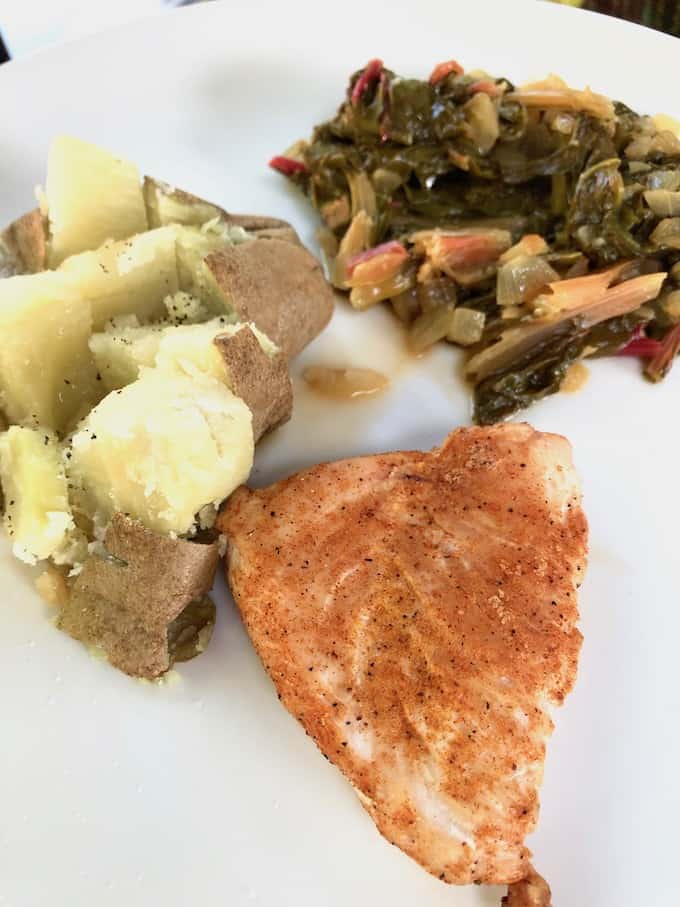 On this particular day, I didn't make a meal from my GFDF Weekly recipes and menu plans, even though I had all my ingredients ready in the fridge. We've been on track so far this week, so I felt okay parking the menu plan for a night – plus I had some greens that needed cooking up and this seemed like an easy dinner.
When it's nice outside, I try to make the most of cooking outside. We have a Traeger grill and do our best to use it more when it's super nice out.
Luckily, I had some chicken ready to go on the grill and simply seasoned it up with some salt, pepper, and Traeger chicken rub – which we decided later didn't really even call for extra salt or pepper, but learning experiences come in all forms. I cooked the chicken for about 25 or 30 minutes at 375 degrees. I buy chicken from Costco, and usually cut the chicken breasts in half. Everyone in my family only eats half of a breast for one meal, and it fills us up.
While the chicken was cooking, I microwaved some russet potatoes and prepped some Swiss chard from our garden. I've been growing Romaine and Summer Bibb lettuces, spinach, kale, and Swiss chard – and they've all been ready at the same time. We've been having greens at every meal and still can't keep up!
I cooked the Swiss chard by sautéing ½ an onion in olive oil over medium-high heat, then adding garlic to cook for about 30 seconds. Next, I added my chopped Swiss chard, a splash of apple cider vinegar, and about ½ cup water. I covered it, reduced the heat to medium-low heat, and cooked for about 6 or 7 minutes.
We sat outside at our outdoor dining table and enjoyed the beautiful weather, while watching chickadees wander through the yard looking for dinner of their own.
Gluten and Dairy-free after dinner treat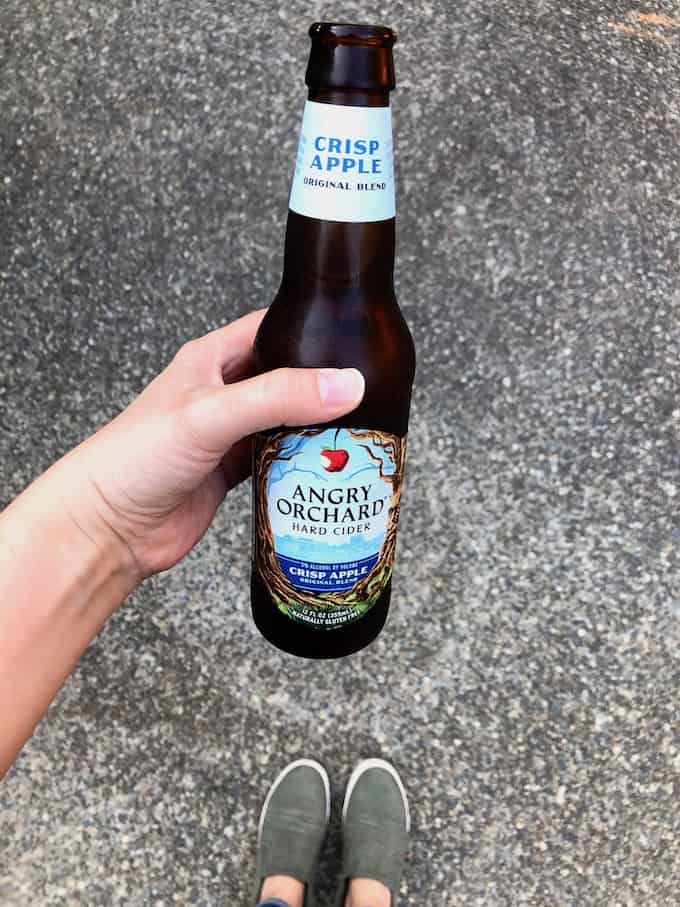 I popped open a bottle of Angry Orchard hard cider at the end of the day, while the family and I were playing and hanging out in the backyard. Most days we eat some kind of dessert or sweet snack after dinner, but we didn't have anything on hand that didn't require more work, so I opted for this instead.
My husband is getting really interested in redoing our lawn, so we walked around talking about what tasks needed to happen in order to turn our weedy thick grass into something a little more bare-feet-walkable.
So that's it! That's what I ate on a random Thursday in late May. The one thing I didn't realize I didn't photograph throughout the day was the water I drank… water didn't seem all that interesting to document, but I'm sure you get the idea. I use those big mason jars to drink out of at home, because they hold so much, and I don't have to refill my cup as often.
I hope if you're looking for some ideas as to what a standard day looks like in meals, this gives you some ideas. If this seems like something you're interested in seeing more of, maybe I'll try to create one of these types of posts for every season, so you get a full idea as to how I keep this diet up and how my meals change throughout the year.
If you loved this post, be sure to check out some of my recipes and menu plans inside GFDF Weekly. I share out 5 gluten and dairy-free dinner recipes each and every week! Check out the details here or by clicking the image below.