Do you enjoy Funyuns but aren't sure if they're safe for your gluten-free diet? Find out in this post if these onion flavored snacks are gluten-free, plus if they are dairy-free or vegan.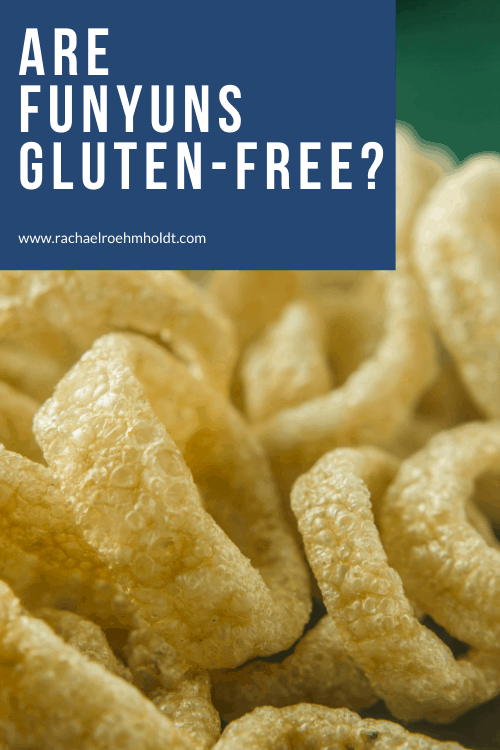 Note: I am a proud Amazon, Chomps, MunkPack, and Thrive Market affiliate and am happy to recommend their service and products to you. Please know that as an affiliate, I may receive a small commission on the products you purchase after clicking through my links. For more info, please see my disclosure policy here.
Funyuns are a tasty crunchy onion flavored snack in the shape of onion rings that are perfect for lunchtime, watching a game on TV, or packing for a picnic.
In my experience, people either love them or they loathe them. I've got nothing against Funyuns except for the mild bad breath they leave me when I'm done munching on them.
But what about if you're trying to follow a gluten-free diet? Is there a reason to avoid eating Funyuns if you're also avoiding gluten?
In this post, we're going to focus on this specific oniony snack of Funyuns and find out what Funyuns are, what the ingredients are, if they're gluten-free, and what flavors to look for.
Finally, we'll wrap this post up by answering some common questions about whether they're dairy-free, vegan, and what other brands you can buy that are similar to Funyuns. Let's get snacking!
What are Funyuns?
Funyuns are an onion flavored snack food that are in the shape of rings made by the Frito Lay company. They're made of puffed corn and are meant to emulate onion rings, but in a shelf-stable form. They are flavored with a salt and onion mix to give them their flavor.
What are the ingredients in Funyuns? What are Funyuns made of?
Enriched Corn Meal (Corn Meal, Ferrous Sulfate, Niacin, Thiamin Mononitrate, Riboflavin, Folic Acid), Vegetable Oil (Sunflower, Corn, and/or Canola Oil), Salt, and less than 2% of the following: Corn Starch, Sugar, Corn Flour, Buttermilk, Maltodextrin (Made from Corn), Onion Powder, Monosodium Glutamate, Hydrolyzed Corn Protein, Dextrose, Garlic Powder, Natural Flavors (Including Natural Toasted Onion Flavor), and Gum Arabic.
Read on: Is cornmeal gluten-free?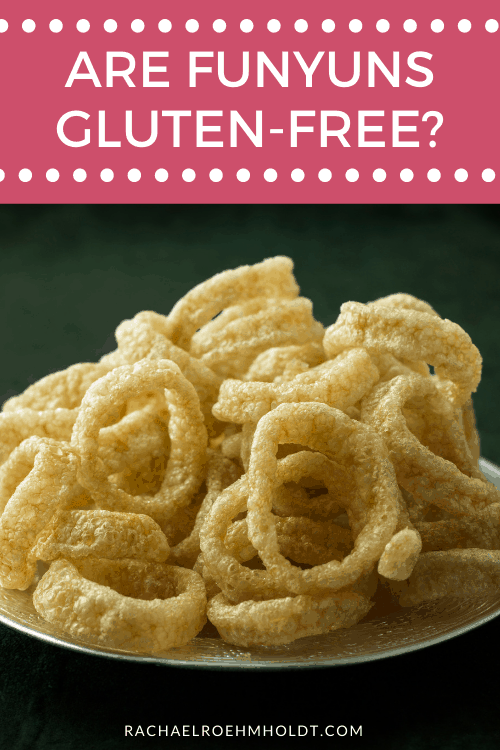 What is gluten?
Gluten is a protein found in most wheat products, and acts as the "glue" that helps to hold wheat, barley, kamut, spelt, farro, durum, bulgur, rye, and semolina together to maintain their shape.
You can find gluten in whole grains, but also in many processed foods as well. If you purchase wheat bread, there will be gluten in it, because wheat by nature has gluten.
When you think of squishing a piece of bread in your hands, it will form a ball, then will bounce back. That bouncing back is often indicative of gluten. The gluten is the naturally sticky glue that is part of many whole grains.
Many processed foods have hidden gluten in them in the form or gluten or wheat derivatives. These are also in the form of flavorings, binders to keep ingredients together, or other additives.
Read on: What is gluten in food? The basics of a gluten-free diet
Are Funyuns gluten-free?
According to the Frito Lay website, they are not considered to be gluten-free, as they can't guarantee that there is less than 20ppm of gluten in them. However, they are listed as having no gluten-containing ingredients.
This means that while there is no gluten in the ingredients directly, the company acknowledges that the likelihood of cross contamination from shared equipment and a facility is probable.
Read on: Is corn flour gluten-free?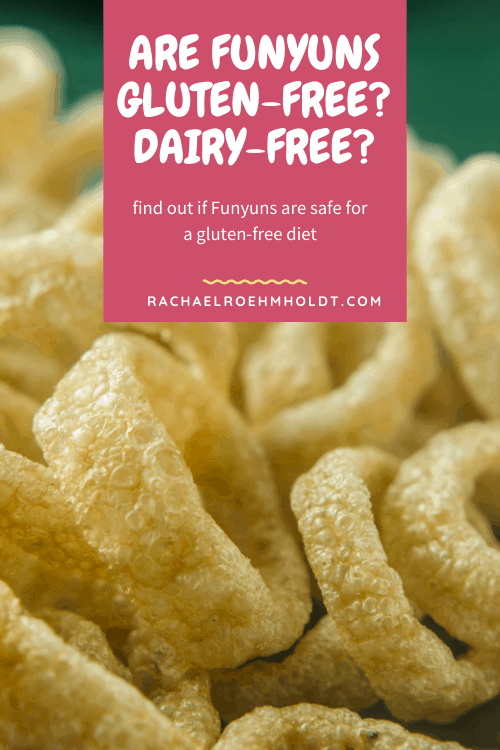 Here is the official gluten statement from Frito Lay:
Frito Lay Gluten Statement
Frito Lay also states that while some of their products do not fit the qualifications of the 20ppm of gluten in the product, that some of their other flavors contain no gluten.
This means that these might be safe for a gluten-free diet if you are satisfied with the idea that there may or may not be the potential for cross contamination with gluten ingredients.
This is the statement from the Frito Lay website regarding their products with no gluten-containing ingredients:
"The Frito-Lay products listed below do not contain wheat, rye, barley or oat ingredients (we include oats in this list as a precaution as oats are often commingled with gluten-containing grains).
Please note however, some of the products listed below may be manufactured on the same lines as products that contain gluten.
Although our lines are cleaned between production runs, Frito-Lay has not tested these products for gluten content and the ingredients in these products may have come into contact with gluten-containing products prior to manufacturing.
Individuals who are sensitive to gluten should take these factors into consideration in consuming these products."
Knowing that Funyuns aren't necessarily gluten-free, but they also may be safe for those folks who can tolerate cross contact of gluten, let's talk about what flavors to be on the lookout for.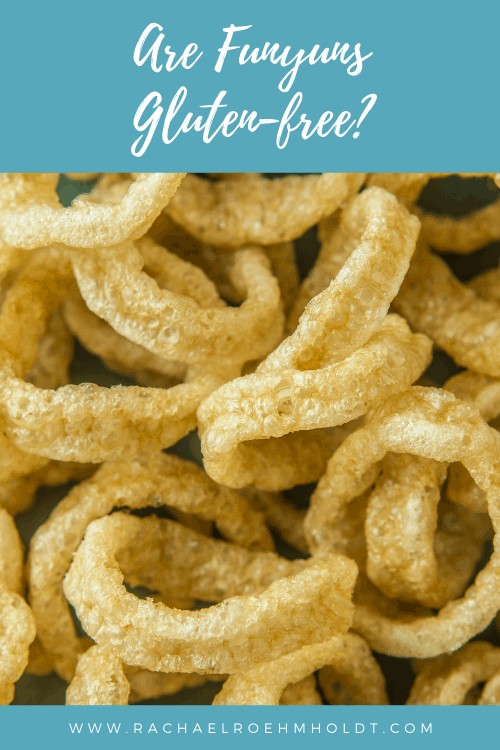 Which flavors of Funyuns have no gluten?
According to the Frito Lay website, these are the Funyun flavors that may be safe for a gluten-free diet, assuming you can tolerate the possibility of cross contamination from shared equipment.
Funyuns Baked Onion Flavored Rings
Funyuns Flamin' Hot Onion Flavored Rings
Funyuns Onion Flavored Rings
Now that you know which flavors to look for in order to keep up with your gluten-free diet, let's talk about some other questions you may have about this product.
Are Funyuns dairy-free?
The ingredients list for Funyuns includes buttermilk, making these onion flavored snacks not a good choice for someone on a dairy-free diet.
Are Funyuns vegan?
Funyuns contain buttermilk, which is an animal product, making this snack not a good choice for someone following a vegan diet.
Are Flamin' Hot Funyuns gluten-free?
According to the Frito Lay company website, Flamin' Hot Funyuns aren't considered gluten-free as they can't confirm that there is less than 20ppm of gluten in them.
However, this flavor contains no gluten-containing ingredients, meaning that it could or could not be a good idea for your gluten-free diet and you should do what is right for your body.
There is a chance for cross contamination with gluten in the manufacturing process, so proceed with caution on all Funyun flavors.
Now that we've covered all we can about Funyuns, let's talk about some other onion-flavored snacks that are gluten-free that you might want to try out instead of the Funyun brand.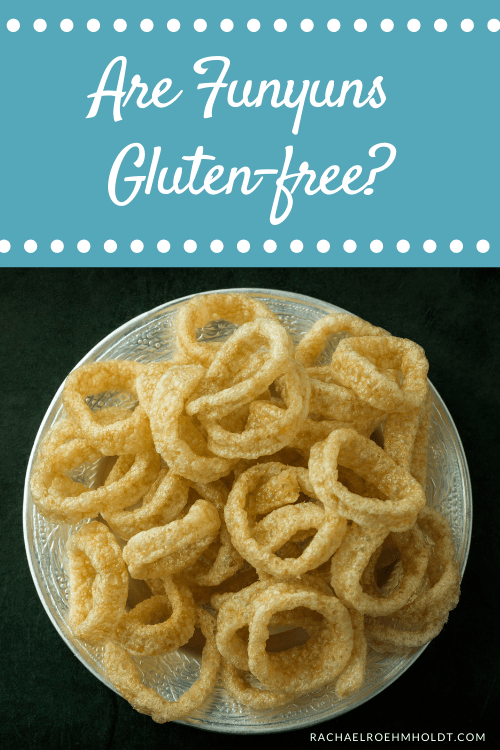 Gluten-free Onion Snack Brands
If you love Funyuns, I hope that this post has given you all the information you need to decide if you'd like to continue keeping them in your gluten-free diet.
Remember that these contain no gluten ingredients, but there is a risk for cross contamination where they are manufactured. Do what feels right for you and your body!
If you loved this post, I hope that you'll share it with your friends on Facebook and pin it for future reference on Pinterest.
Gluten-free Chips
Discover which brands and flavors of chips are safe for your gluten-free diet. Great for snacks, appetizers, barbecues, picnics, and lunches.