Snacking is one of those topics that some folks in the health and wellness world debate heatedly. For some, snacking provides an endless supply of extra calories and opportunities to make unhealthy choices full of empty calories and no nutritional value. For others, snacking helps replenish energy and mental clarity in order to make it through to meals without wanting to eat their arm off.
I'm one of the folks who firmly believes in snacking as a healthy practice to get into – as long as the snacks are at least relatively healthy and provide some sort of nourishment. When I ate gluten, my go-to snacks were often the crunchy ones – pretzels, pita chips, and cookies. Not exactly the epitome of health and nutrition, and they often left me wanting even more later.
These days, I try to make healthier snack choices. Crunchy snacks are still my go-to option when I'm reaching for something between meals – usually in the afternoons. I rely pretty heavily on fruits, veggies, and the occasional grain to get me through to my next larger meal. These are my nine favorite crunchy snacks for serious gluten-free dairy-free snacking.
9 Favorite Crunchy Snacks (gluten-free dairy-free)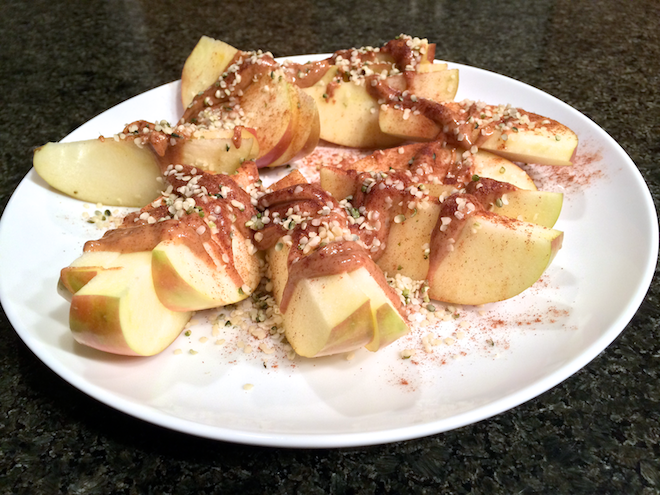 Apple slices with almond butter and cinnamon
Whenever I make this snack, I feel like I'm eating nachos from another planet. With thinly sliced apples, almond butter drizzled over the top and a sprinkle of cinnamon, this sweet and crunchy treat is one of my favorites to satisfy me through to my next meal. Sometimes I'll even boost up the protein content and sprinkle on a few hemp seeds as well (in the photo above).
Frozen grapes
When I was a kid, my stepdad used to say "grapes are nature's candy." I always thought to myself what ridiculous notion that was – they're fruit, not candy! Even so, when I'm after something sweet and crunchy, frozen grapes are an excellent healthy option. And definitely better for me than eating a pile of cookies.
Carrots & celery with hummus, bean dip or tabouli
Anything dip-able is a great snack idea. Instead of pita chips, I now dip carrot and celery sticks in hummus, bean dip or tabouli. It's an easy and healthy snack that I can prep ahead of time and have ready and on hand for when I'm in the mood for it.
Read on: Is hummus gluten-free?

Popcorn
I like to pop popcorn using a brown paper bag and my microwave. I toss a bit of popcorn in the bottom of a brown paper lunch bag and throw it in the microwave, using the "Popcorn" preset. I always listen and wait to see if there is more than 2-3 seconds between popping kernels, and if so, I stop it. Otherwise the whole batch burns. Many times I'll eat it plain, other times I'll toss some melted coconut oil and a sprinkle of sea salt to cure my snack craving.
Celery & almond butter
This is akin to the kid favorite "ants on a log." Instead of peanut butter, I often opt for almond butter as it sits better with my digestion and I get the added benefit of calcium in the almond butter. You could easily use any type of nut butter you like (store bought or homemade), but I love this flavor combination and the added crunch from the celery.
Pecan snack crackers
One of my few packaged food indulgences are gluten-free snack crackers. I really like the Pecan Nut Thins from the Blue Diamond Brand for snacking and dipping into my favorite dips and sauces. They generally don't keep me full for very long, but sometimes a cracker craving can only be beat with crackers themselves.

Kale chips
For so many people, kale chips sound disgusting or strange. I love to snack on kale chips for their crunch factor and general guilt-less enjoyability. They take only a few minutes to make and you can get super creative with seasonings too for different flavor profiles if you want to experiment. Here's a great kale chip recipe to try your hand at.
Corn tortilla chips & homemade guacamole or salsa
I am a huge Mexican food lover, which comes in handy when trying to eat gluten-free as well. Corn tortillas are almost always gluten-free (check the package!) and they pair wonderfully with homemade guacamole or salsa. In the cooler months, I'll pick up some store-made dips and in the summer when avocados and tomatoes are abundant in the store, I'll make both at home for a yummy healthy snack option.
Spiced nuts
Nuts are a super easy crunchy snack that I like to keep on hand. I enjoy them raw or will roast up a batch of spiced nuts and keep them in a sealed container for a week or so (or until they've been gobbled up). You can try my recipe for spiced nuts here or use it as a template to try your hand at some other spicy flavor combinations.
What are your favorite healthy crunchy snacks?