Fall is upon us and I've been finding myself wanting hunker down a bit more the past few weeks. We've moved our little family from a rental house into a home we just bought and we are so smitten with our new space.
Even though I've been unpacking almost every day, in the evenings I've been wanting to curl up with my Kindle, a cup of tea and sit by our new cozy fireplace.
Fall has been one of my favorite seasons for years. I love the change that the season brings – the colors, the layers, the food (of course).
But one thing that I don't particularly love about this time of year is that it seems like everyone I know gets sick. It's probably from all that cozying up indoors and spreading germs like wildfire that does it. But regardless, this is the time of year that I am SO very aware of my ability to get sick.
It's also the time of year that I take extra precaution to boost my immune system and make sure that I don't get sick like everyone else. Here's what I've been doing – and recommend – to strengthen your immune system this time of year too.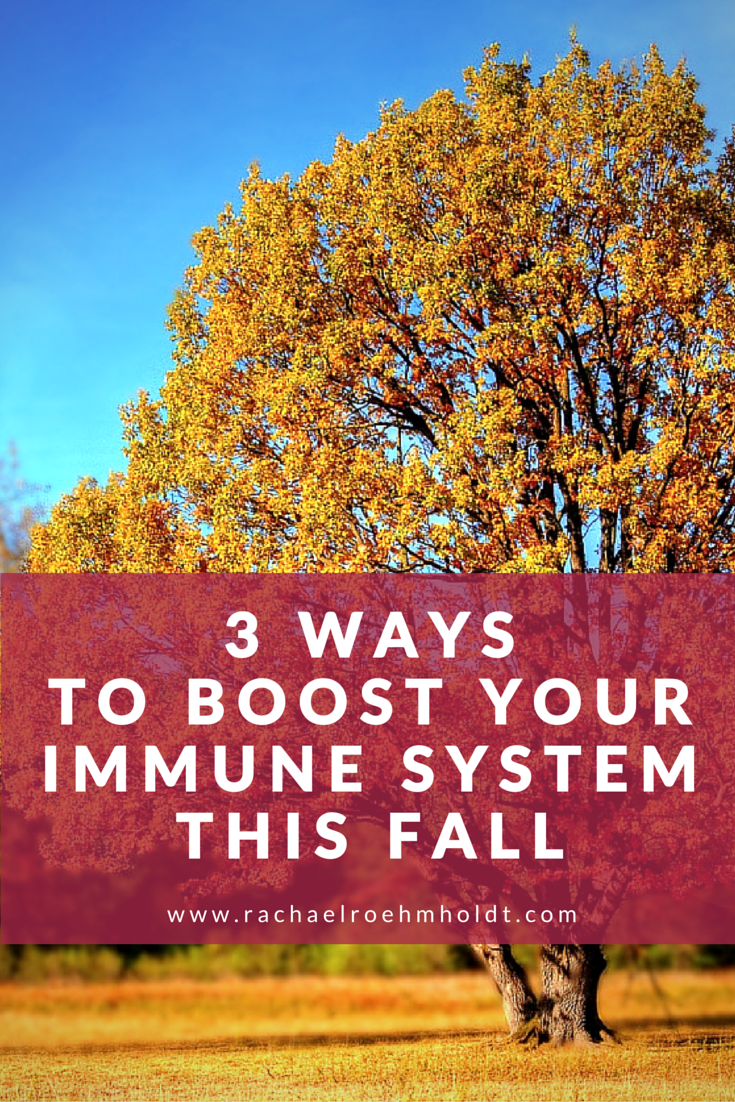 1. Get Your Daily Dose Of Vitamin D
Low levels of vitamin D are shown to cause chronic levels of inflammation within the body. Not only does chronic inflammation allow you to catch more colds and flu viruses, but it can also make you more susceptible to other more severe chronic inflammatory conditions, such as coronary heart disease and diabetes.
While some amount of an inflammatory response can be a good thing for your body – after all, its your first line of defense for warding off a cold or flu virus you come into contact with – its only beneficial to you when your body has relatively low levels of inflammation to begin with.
Getting adequate Vitamin D3 is imperative for the strength of your immune system. If you aren't already, consider taking a daily dose of Vitamin D3 (at least 1,000 IU) to help boost your immunity through the entire cold and flu season.
2. Reduce Refined Carbohydrates & Sugars
When it comes to boosting your body's natural immunity, avoiding some foods is just as important as adding healthy ones to your diet. Refined carbs and sugars feed the bad bacteria in the gut and contribute to inflammation. Refined carbs and sugars include foods such as pasta, bread, cakes – even gluten-free ones – and candy, as well as soda.
Switching out these refined carbohydrate foods with whole grains, like brown rice, quinoa, millet and buckwheat will allow you to keep your energy levels high without the blood sugar spike and inflammation in the body.
Replace refined sugars in your diet with natural sweeteners instead. Some of my favorite natural sweeteners are maple syrup, honey and agave. Keep in mind that all sweeteners, natural or not, still create inflammation in the body – so be mindful of how much you're eating while you're trying to keep your body in prime shape for fighting off colds and flu.
3. Get Active Regularly
Getting moving at least 20 minutes each day can boost your immunity and help you fight off colds and flu viruses you come into contact with.
Physical activity helps to send antibodies and white blood cells through the body at a quicker rate. As these antibodies or white blood cells circulate more rapidly, they can detect illnesses earlier than they might normally.
Spend just a few minutes doing some type of physical activity each day to drastically improve your immune system response.
Now I'd love to hear from you in the comments: What is YOUR favorite thing about fall?