Note: I am a proud Amazon affiliate. That means if you click any of the links below and purchase through Amazon's website, I may make a small commission from the purchase. This comes at no cost of you. To review my terms and privacy policy, please click here.
Can I let you in on a secret?
I'm not really that great at baking. I'm not the world's worst baker – I don't think I've ever burned anything that I've baked more than once or twice.
But baking is seriously intimidating without any sort of recipe for me. It's why I often use cookbooks and pre-made recipes for most of my baked goods.
Especially in the gluten-free space… it's downright overwhelming with all the flour options out there.
Baking is a true science and the people who have it all figured out and can come up with baking recipes without breaking a sweat are like superheroes to me.
Read on: Is flour gluten-free?
But despite the fact that I'm not a pro at gluten-free baking, I am quite well versed in gluten-free living and one of the questions I get asked all the time is:
Do you really need to have a million different flours in order to bake gluten-free?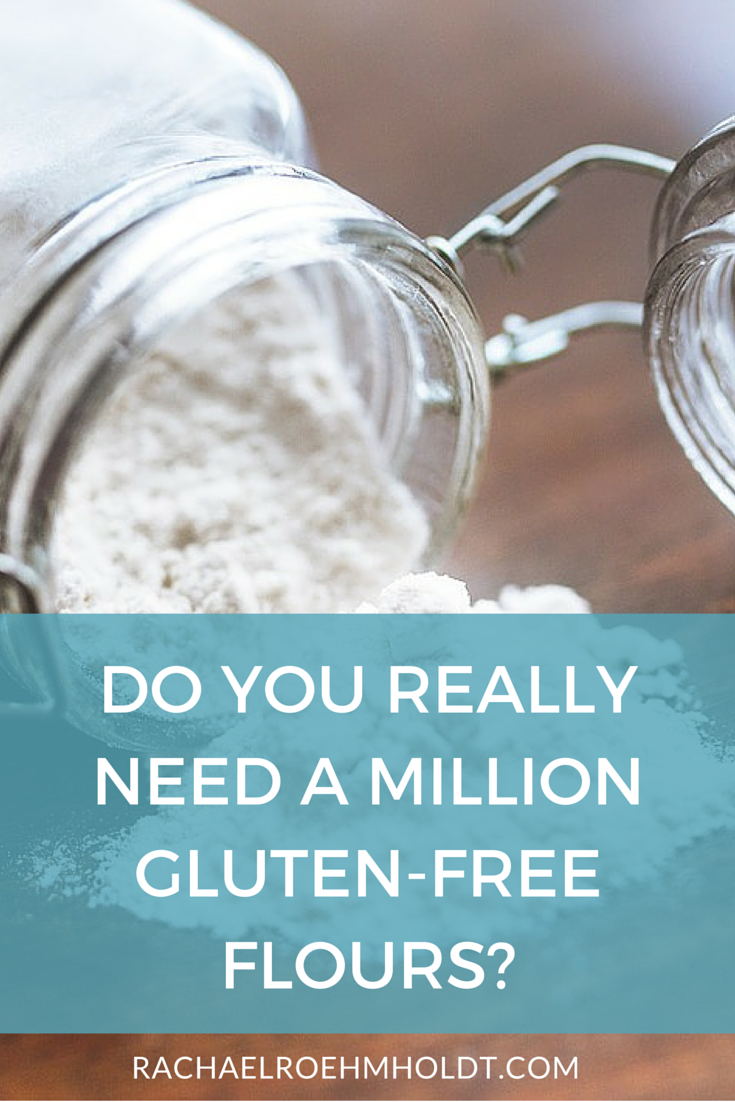 There is no right or wrong answer here – and you'll want to think about a few things before you decide on stocking your pantry with a ton of flour options or going for just one great gluten-free all-purpose blend.
The first thing to keep in mind is your level of baking interest.
If you're REALLY into baking and see yourself making up batches of gluten-free cookies, cakes, or scones every weekend, then it might be worth your while to buy and learn to use each GF flourproperly. If you're a baking novice or you just don't bake often and don't love it, then a gluten-free all-purpose blend could suit you just fine.
The second thing is that gluten-free all-purpose flours can be almost "too" all-purpose-y.
The texture, taste, and density of each gluten-free flour vary so much that it's often a shame to toss an all-purpose flour at any recipe and assume it will turn out as a "normal" (non-gluten-free) recipe would call for.
In my experience with replacing "normal" all-purpose flour for gluten-free all-purpose flour in a recipe, I've had the results come out dense, doughy tasting, and dry.
The bottom line is that the reason you find so many different flour ingredients in gluten-free recipes is that with each combination comes different results.
Check out my ultimate gluten-free dairy-free baking list below and the accompanying blog post right here.
The taste and texture vary quite a bit from one gluten-free flour option to another. Some flours are really dense and earthy tasting while others are light and taste almost sweet.
If you want to keep costs down, opt for having just one all-purpose flour blend on hand. Or if don't you want to keep your small pantry stuffed to the gills with a ton of flours options, there are a number of great all-purpose flour blends available. I've tried many of them and can vouch for them working in a variety of recipes. A few of these are King Arthur,Namaste Foods, Pamela's and Cup4Cup.
You really don't need a ton of different flour options in your pantry to successfully bake gluten-free treats, but you may consider having a few other than GF all-purpose blends for the times that taste and texture really matter to you. Prioritize what's important to you to make your decision on whether an all-in-one flour option or many flours for many recipes is right for you.
Are you a great gluten-free baker? What's your experience with gluten-free all-purpose flours? Which one is your favorite?