Find out if Jameson Irish whiskey is gluten-free, what it's made from, and which types are safe for a gluten-free diet.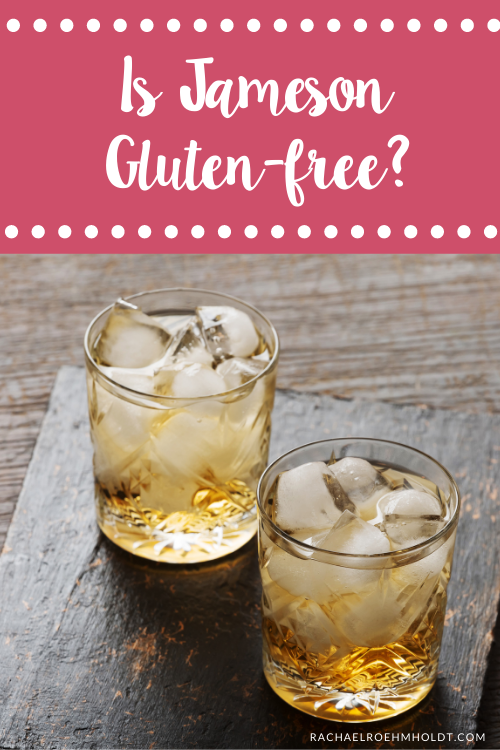 Note: I am a proud Amazon, Chomps, MunkPack, and Thrive Market affiliate and am happy to recommend their service and products to you. Please know that as an affiliate, I may receive a small commission on the products you purchase after clicking through my links. For more info, please see my disclosure policy here.
If you're following a gluten-free diet or just getting started with one, you know that it's important to know what's in all your food and drinks. Every ingredient matters when you're avoiding gluten, since it can be a matter of feeling awful with just one sip or feeling okay even two days later from unintended side effects of consuming gluten.
If you're a fan of Jameson Irish whiskey, you are probably wondering how this liquor can fit into your gluten-free diet. Will you need to find another liquor that's safe for you? Can you still drink it when the occasion strikes?
Find out in this post what Jameson Irish whiskey is, what it's made from, and if it is gluten-free. We'll wrap the post up with the different types of Jameson whiskey you can find at the store and which ones you can trust are gluten-free, and the ones you'll want to be careful about.
This is part of the Gluten-free Alcohol Series, where we're going to discuss different types of alcoholic drinks and how they fit into a gluten-free diet.
What is Jameson?
Jameson is a brand of Irish whiskey that is made in the Republic of Ireland. It is a popular whiskey in the U.S. and other parts of the world as well.
Jameson can be used like any other whiskey in drinks: neat, on the rocks, or mixed into your favorite mixed drinks. Some folks like Irish coffee, which is coffee with Jameson added to it. Others enjoy James on in old fashioneds, sidecars, hot toddies, and even added to sangria.
What is whiskey made from?
Whiskey is made from grains that have been malted, mashed, fermented, distilled, then aged. Whiskey can be made from various types of grains, such as corn, barley, rye, and wheat.
Different types of whiskey use different grains (source).
What is gluten?
Gluten is a protein found in most wheat products, and acts as the "glue" that helps to hold wheat, barley, kamut, spelt, farro, durum, bulgur, rye, and semolina together to maintain their shape.
Gluten is naturally occurring, and therefore is impossible to strip away from the grain. If a grain naturally has gluten in it, there's no way to make that food gluten-free.
Is whiskey gluten-free?
If you're wondering if whiskey is a good option for a gluten-free diet, know that this liquor is generally considered a safe choice for folks who avoid gluten. This is because even if there are gluten proteins in the mash to create whiskey, it is removed during the distillation process.
That said, it's important to note that even though whiskey is considered gluten-free, some people have had gluten reactions to this drink, according to Very Well Fit.
Read on: Is whiskey gluten-free?
Is Jameson gluten-free?
I found conflicting information whether Jameson is gluten free and safe for a gluten-free diet. According to Urban Tastebud, it's recommended to stay away from it if gluten-free. Gluten-free Guide HQ (a site by Urban Tastebud) says that Jameson IS gluten-free.
As long as the whiskey is distilled and no other ingredients are added to it after this process, Jameson is considered safe for a gluten-free diet.
Knowing that this is a distilled alcohol, we can assume Jameson should be considered to be a gluten-free drink. Even distilled beverages that start with gluten proteins, like a barley mash, will be gluten-free after distillation.
Though Jameson can be considered gluten-free, some people who are extremely sensitive to gluten have had reactions to it. Use your best judgement using what you know about your body and your sensitivities to determine if you want to include this drink in your gluten-free diet.
The few types of Jameson that I'm uncertain about the possibility of gluten being present are the cold brew, because flavorings have been added to it post-distillation. The Caskmates IPA Edition and the Caskmates Stout Edition are two others that give me pause, because they are aged in beer barrels, according to the Jameson website.
Use caution with these three types of Jameson whiskey, but the other plain varieties should be considered okay to add to your gluten-free diet.
Types of Jameson Whiskey
According to the Jameson Whiskey website, they offer six different types of whiskey:
Jameson Irish Whiskey
Jameson Cold Brew
Jameson Black Barrel
Jameson Caskmates IPA Edition
Jameson Caskmates Stout Edition
Jameson 18 Years
They also currently have a Whiskey Makers series with three limited edition whiskeys:
The Cooper's Croze
The Blender's Dog
The Distiller's Safe
If you're a fan of Jameson Irish whiskey, I hope this post has helped you determine if this is a drink you want to keep in your home bar. Jameson is generally considered safe for a gluten-free diet, as it is a distilled liquor and the gluten has been removed during the distillation process.