Note: I am a proud Amazon, Chomps, MunkPack, and Thrive Market affiliate and am happy to recommend their service and products to you. Please know that as an affiliate, I may receive a small commission on the products you purchase after clicking through my links. For more info, please see my disclosure policy here.
Have you jumped on the kombucha train yet?
The fermented tea that's rich in all sorts of good bacteria to help heal your gut? No?
Well a few years back, I went on a huge I-have-to-learn-how-to-do-this-now kick.
Why?
I love the health benefits and flavor of kombucha, and
I've done quite a bit of research to find out that it's actually much cheaper to make your own kombucha at home than buy it in the store.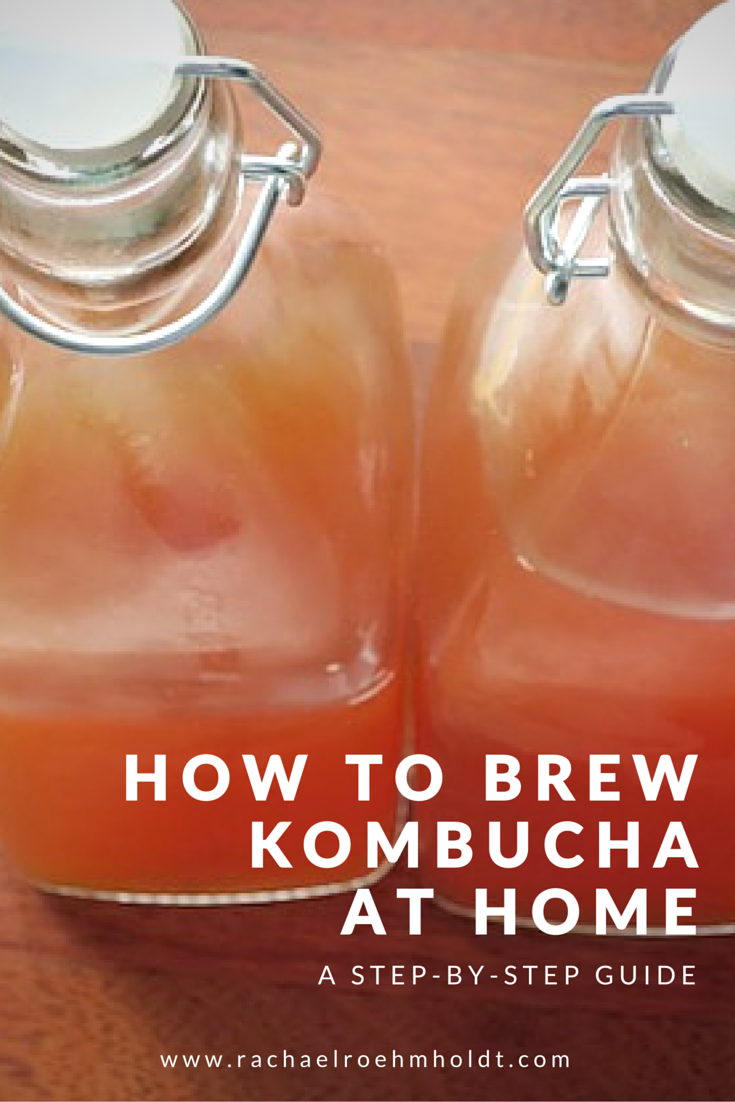 At first, I was really weary of the idea – making a fermented bacteria-laden drink in my own home? Won't that smell funny? Or worse – grow mold?
Well, yes. Mold happens. But if you do it correctly, it shouldn't. And if it does… well then you start over again. No biggie.
And the smell? Well that just means you're doing something right!
I've been through a few rounds of brewing kombucha now – a few years after my Google-bender. And now I'm pretty confident with not only growing a SCOBY, fermenting – and second fermenting… but also that I'm a VERY patient woman.
This process can take a few weeks to get going. So if you decide to take home kombucha-brewin' on, just know it will take a while before you reap your rewards.
Before I start in to tell you how to make your own kombucha at home, know that there are plenty of (more) in-depth blogs and websites out there that you can get a lot of your questions answered about the ins and outs of kombucha brewing (my two favorite resources are here and here).
Today's post will be a whole step-by-step process for how I grow my own SCOBY and ferment kombucha at home.
Growing A Scoby
I began with a $4 bottle of organic kombucha from Whole Foods (yep, $4 – that's why I make it at home sometimes). Any brand will do, but my favorite it GT's Original Kombucha (make sure to get the non-flavored variety).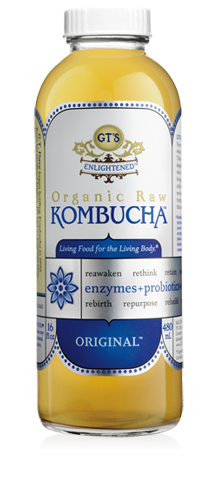 The process is as follows:
Make one cup of organic black tea. Sweeten with 1 tbsp sugar (it needs to be white sugar, but don't worry – you won't be drinking it – the bacteria over time will eat the sugar and you won't be ingesting much of it at all).
Let the tea cool to room temperature.
Add the sweetened tea to a mason jar (a quart-size is perfect for this).
Pour in the bottle of kombucha.
Place a paper towel or thin kitchen towel over the jar and fasten with a rubber band.
Place the jar in a dark corner of your kitchen or pantry and forget about it for 2-3 weeks.
The SCOBY forms and looks like this after 3 weeks of growing in the pantry: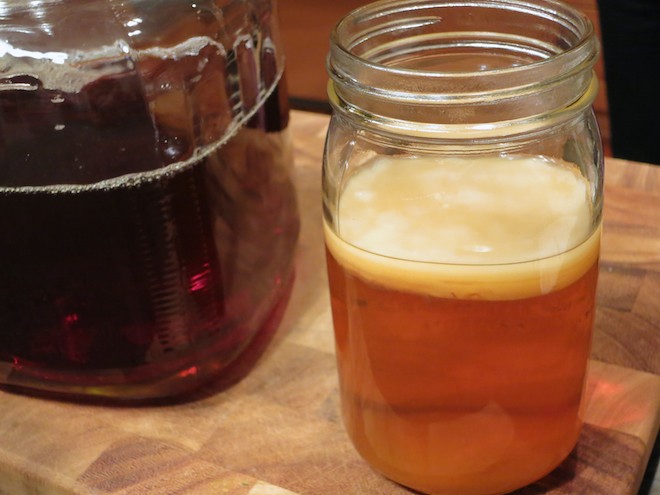 The SCOBY itself is pretty gross looking, but awesome at the same time. I've always been a freak for science experiments, so this is amazing to me. My husband gets pretty grossed out by it and insists I do the "removal" of it (you know, just in case).
Buying a SCOBY
If you aren't into the idea of growing your own SCOBY, you can easily buy a SCOBY. The best idea is to look for people or places that sell them locally, as you'll want to be sure they're kept at the optimal settings (not too hot/not too cold).
If you can't find any locally to buy, you can find one online through various retailers. One of the top selling SCOBY's to buy on Amazon is Fermentaholics Organic Kombucha SCOBY. It comes with 12 ounces of starter tea, which is essential for getting your home brewed kombucha going. This SCOBY comes in a bag, along with step-by-step instructions on how to use it. This package will make up to one gallon of home-brewed kombucha.
Remember that even if you have to buy a SCOBY, that this investment will pay you back, as each SCOBY will multiply and you can divide them for more batches of kombucha. Or you can be a very generous friend and start sharing them with others who want to try kombucha brewing.
Starting The First Fermentation
The next step after getting your beautiful SCOBY to grow is to start in on the first full batch of kombucha.
Here's the play by play for starting your first kombucha fermentation:
Make as many cups of sweet tea as you want in your end result, keeping the same 1 tbsp of sugar to 1 cup of tea ratio. You can see in the photo (below), I made a whole bunch so I could make the most of my time.
Let the tea cool to room temperature then add it to a larger glass jar (you don't want to use any jars with metal on them as it has a weird effect on the bacteria). It has to cool so that all the good bacteria don't all die once you add the tea to the jar.
Pour the SCOBY and starter brew (everything left from the mason jar) into the larger jar with sweet tea.
Cover with a paper towel and rubber band.
Place back in the dark corner of your pantry or kitchen for 7 to 10 days to ferment.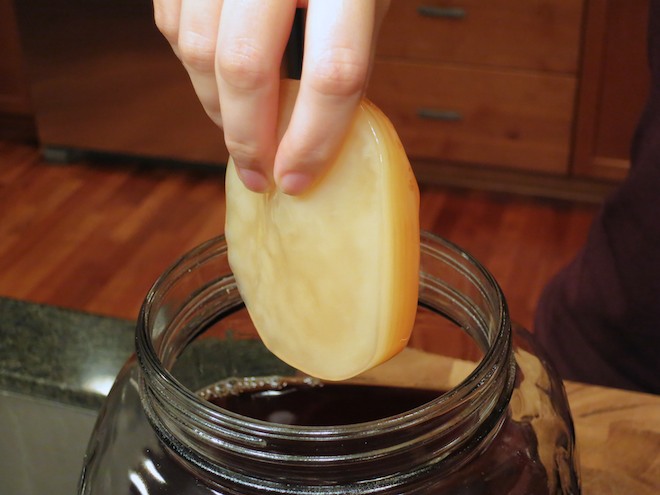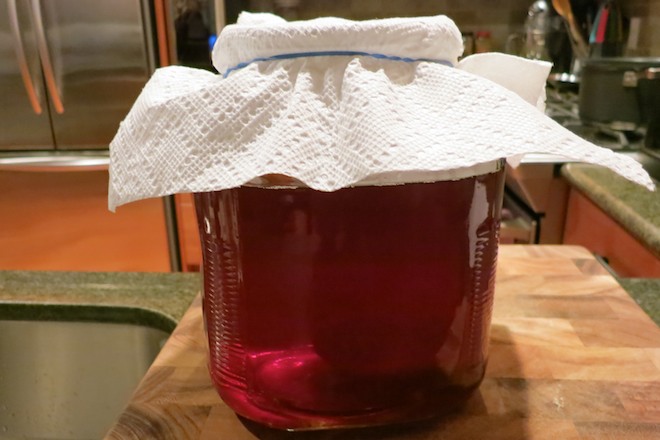 I let my kombucha do it's thing for a full 10 days, depending on the weather. If it's warm, it will ferment quicker. If it's cooler temperatures, it may take up to 14 days to get the right flavor. You can taste test starting around day 7 to find the right flavor and bubbli-ness you're after.
Starting The Second Fermentation
The second fermentation is completely optional, but it's the only way to flavor your kombucha. I drink my kombucha both plain and with a second ferment. It's a fun way to mix up different flavor options – especially if you like it fruity.
These steps are quite simple, just like the rest:
Clean and sterilize the glass containers you're going to use for bottling. You can use anything from swing top containers to mason jars. Really anything that has a good seal will work.
Remove the SCOBY from the top of the jar and place it in a bowl with about a cup of the liquid. This is just to keep it moist while you're working with the rest of the kombucha.
Add some fruit juice to the bottom of the bottles (I usually add about 1/2 cup per 2 1/2 cups of kombucha). This is where you can get creative flavoring your kombucha – try anything from cranberry or grape juice to strawberry or mango puree.
Use a funnel and pour the kombucha into the bottles, leaving 1 inch of headspace.
Close the bottles up tightly and place back in a dark corner or pantry. Let it sit for another three days.
After three days, transfer to the refrigerator – it's ready to drink!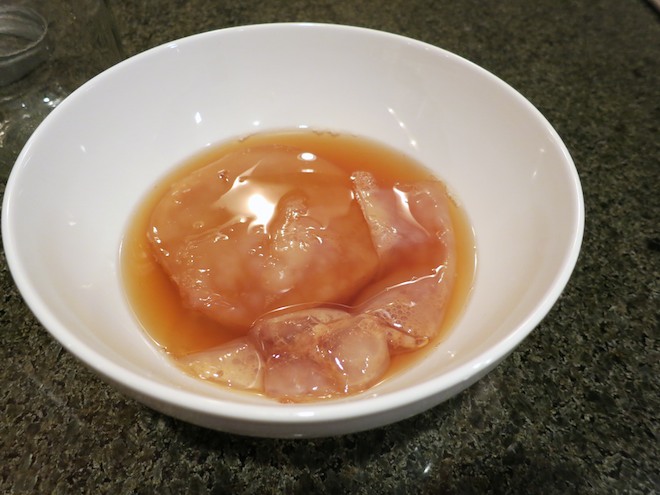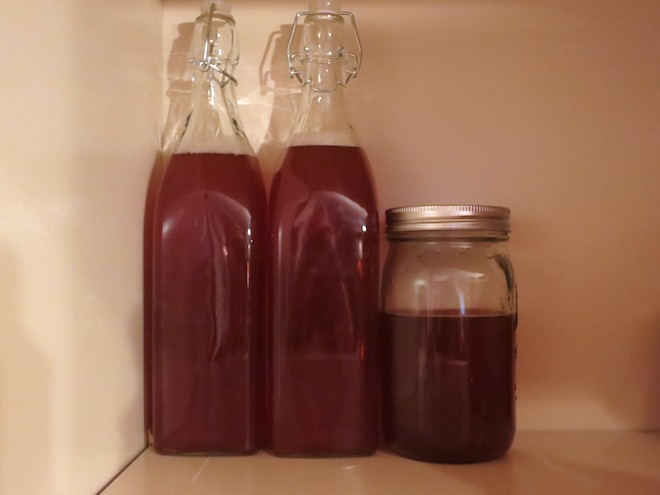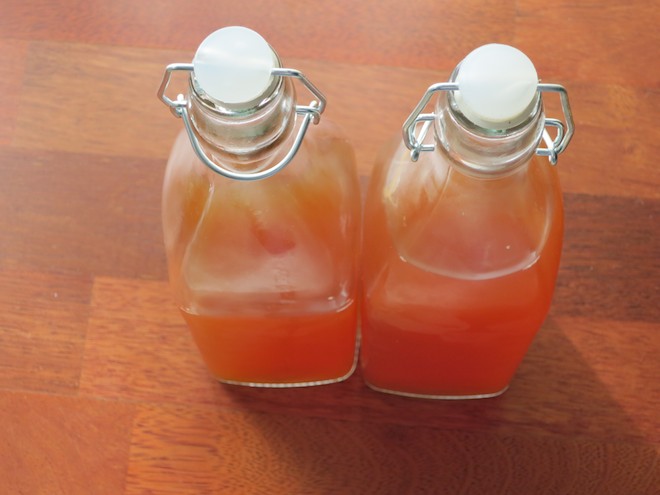 There are two awesome things about brewing your own kombucha at home:
With this method, you can always have a rotational batch of kombucha brewing in your pantry or readily available in your fridge. Just start your next batch after you've transferred the batch from the pantry to the fridge.
You can save a ton of money if you drink kombucha regularly. The only costs are the original bottle of kombucha from the grocery store, organic black tea bags, white sugar, and mason jars if you don't have them already. A really low investment for such a great reward for your gut health!
Have you ever tried brewing your own kombucha? Now that you know the process, do you think you'll give it a try?