For the last few years, I've had a secret weapon in my kitchen. It's bubbly, tastes slightly acidic, and has a weird "thing" floating around in the bottom.
Kombucha is my go-to drink for just about anything.
Have a stomach ache? Drink kombucha.
Need an energy boost? Drink kombucha.
Eat something gluten-y and need an instant pick-me-up? Kombucha again.
This magical drink called kombucha isn't just some strange drink for hippies, although I used to think so when I first heard of it. It's a fermented beverage made of tea, sugar, and a SCOBY (symbiotic culture of bacterial yeast). Basically a big freaking mushroom.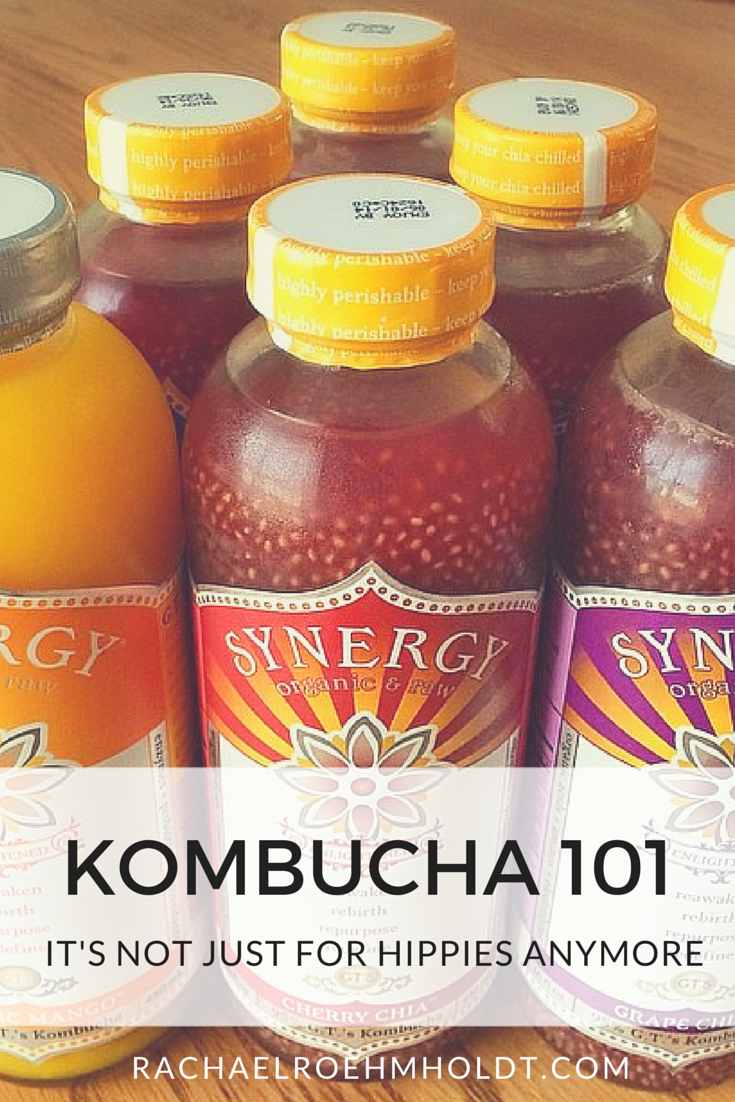 Right. So it's not just for hippies, even though it's basically a fermented-tea-mushroom drink. And some people think it tastes like vinegar.
So… with all of that, I'm going to convince you today to give kombucha a try.
Why?
Because it's SO great for you – especially if you're dealing with any sort of gut issues, food intolerances, or allergies.
There are so many health benefits to drinking kombucha and these are just a few:
It gives your gut a flood of beneficial probiotics that your gut flora will LOVE (aka helps with digestion)
It strengthens your immune system with antioxidants from the tea
It boosts energy
It's full of B & C vitamins and can help with sugar cravings (despite being made with sugar, kombucha has a very low sugar content)
It helps balance the pH level in your gut
It's a natural detoxifier
It's a natural weight loss helper
With all that knowledge under your belt, you're probably wondering how you can get your hands on some right away, right? You're also probably wondering if it's going to even taste good.
Kombucha can be bought at a lot of big grocery stores these days, thank goodness. And it comes in all kinds of flavors if you don't love the standard tea flavor. You can get everything from strawberry (my fave) to guava to grape and ginger. Some brands even sell an 'upgraded' version with chia seeds mixed in (my hubby's fave).The most well-known brands are GT's Synergy, Kevita, Reed's, Kombucha Wonder Drink, and Bucha.
As for the flavor of kombucha, it can be an acquired taste. It isn't super sweet – unless it's a fruit-flavored variation and has as slight vinegar-y flavor. It's really not overpowering and is just something different you probably have never tasted before. It does have a small amount of alcohol – but isn't enough to even be considered an alcoholic beverage or to be carded for it at the store.
For the real kombucha fans, you might even try home brewing your own. I have done a home brew of kombucha many times and it's a great money-saver and gut healer to have on tap in your pantry and fridge (I'll save that topic for another post down the road).
Finally, if you're new to kombucha, you may consider starting slow. With the powerful probiotics, it's easy to overdo it and get digestive upset from too much too fast. Start with just a few ounces at a time and you can work your way up to a cup or two (most bottles are 16 oz).
So that's the scoop on my kitchen's secret weapon. Have I convinced you to give it a try and see what kombucha can do for you?
If you already are a kombucha drinker, I'd love to hear from you in the comments. What are YOUR favorite brands and flavors?