Get 25 delicious gluten and dairy-free fish recipes, including salmon, cod, tuna, tilapia, and fish taco recipes. These ideas are perfect for any time of year!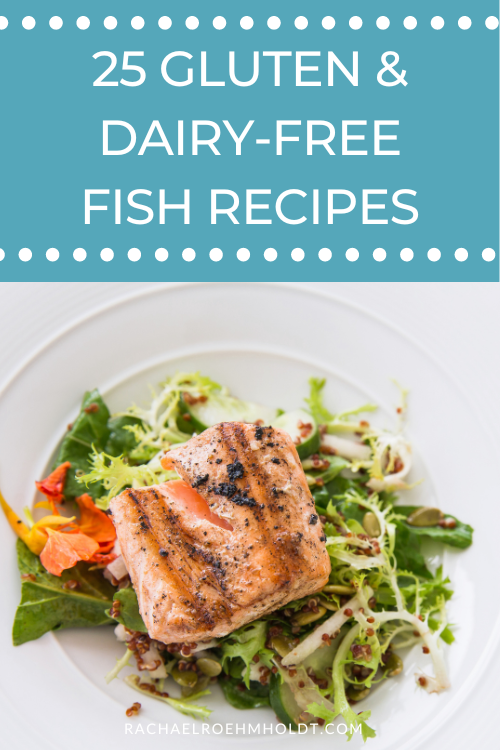 Note: I am a proud Amazon, Chomps, MunkPack, and Thrive Market affiliate and am happy to recommend their service and products to you. Please know that as an affiliate, I may receive a small commission on the products you purchase after clicking through my links. For more info, please see my disclosure policy here.
If you've been looking for new ways to add fish to your gluten and dairy-free diet, you're in the right place today!
Fish is full of so many healthy fats and protein that it's a great food to add to your diet regularly throughout the week.
But a lot of fish recipes contain gluten in the form of breading, and dairy in the form of sauces that it's served with or butter that it's cooked in.
That's why I'm rounding up 25 gluten and dairy-free fish recipes, so both you and I can enjoy this healthy protein-rich food without having to worry about sticking with this diet.
The fish recipes I've rounded up are full of flavor and you'll have a number of options to choose from depending on what you love the most. From salmon to cod to tuna to tilapia, these recipes will give you plenty of options to keep things interesting in the kitchen.
Ready to get into the recipes? Let's get cooking!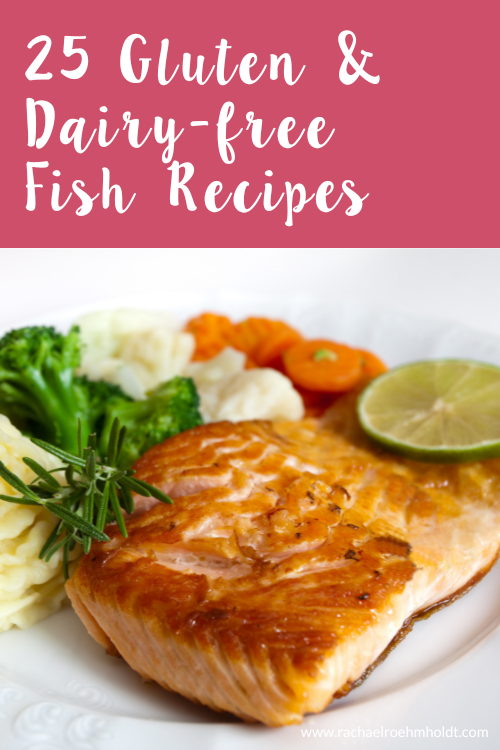 Gluten & Dairy-free Salmon Recipes
If you love salmon, you'll love this set of five recipes that are all naturally gluten and dairy-free.
From salmon bowls, to pasta, to simple baked salmon – you'll find something you love in here!
Enjoy this spicy salmon bowl for lunch or dinner. It takes only about 30 minutes to prepare and includes marinated salmon, a spicy mayo sauce, and a slaw with dressing.
You can even add different ingredients to mix and match to make your salmon bowl unique to your tastes and preferences.
If you love chicken piccata, you'll love this salmon piccata recipe. It's dairy-free, gluten-free, and can be made in one skillet in under 30 minutes.
Most of the ingredients you'll need to make this salmon sing are probably already in your pantry right now, including oregano, onion powder, chicken broth, cornstarch, garlic, lemons, capers, almond milk, and parsley.
This simple salmon recipe is said to be the "best" with loads of flavor coming from fresh garlic, lemon juice, paprika, salt, pepper, and fresh parsley.
It can even be made ahead of time and stored in the fridge or freezer for a later meal.
Enjoy this salmon recipe that's loaded with spice from sriracha sauce and ginger, a bit of tang from vinegar and lime juice, sweetness from honey, and some serious savory flavors from garlic, tamari soy sauce, hoisin sauce, and scallions.
You'll love making this gluten and dairy-free dish for your family any night of the week.
If you like to bake your salmon, this recipe is going to be one of your favorites. With a homemade lemon pepper sauce, this salmon cooks up with an incredible flavor.
Enjoy with your choice of sides like quinoa, rice, or green veggies.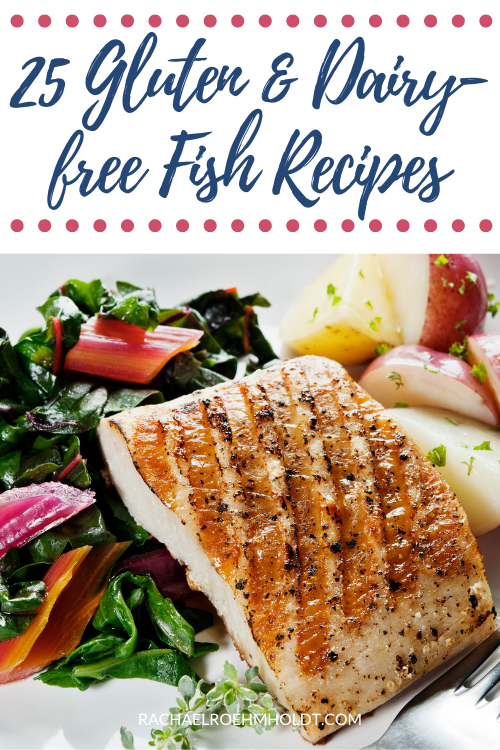 Gluten & Dairy-free Cod Recipes
Cod is a healthy and budget-friendly type of fish you can get from the store in the freezer section or the seafood department.
Because it's naturally gluten and dairy-free, it can be used in a variety of recipes that work well for this diet. Check out these five recipes to get some inspiration for dinner this week!
Try this delicious cod recipe made with olive oil, garlic, fresh thyme and parsley, lemon zest, salt, pepper, and sliced lemon. You'll love knowing it's both gluten and dairy-free, and super easy to make right in the oven.
If you want to make your weeknight fish dinner a little different, give this almond crusted cod recipe a try.
Made with frozen cod fillets, this dish is coated in a homemade almond crust with ground almonds, garlic, olive oil, dried thyme, fresh parsley and rosemary, plus some apple cider vinegar, salt, and pepper. You won't miss one bit of gluten or dairy in this dish!
Looking for a kid-friendly fish cake recipe? You won't want to miss this one.
Made with cod, potatoes, fresh herbs, mayonnaise, and garlic powder, these cod cakes are quick and easy to make plus the whole family will love them!
If you're in search of a 30 minute dinner recipe using your favorite fish, you'll love this baked pesto cod recipe.
With a homemade pesto, the cod you bring home from the seafood area of your grocery store will taste out of this world. Best of all, it's made with just six ingredients that are naturally gluten and dairy-free.
Enjoy this blackened cod recipe with a homemade blackening seasoning for a delicious crust on your cod and a flaky inside.
This recipe is loaded with flavor from tons of dried herbs and spices you can mix up beforehand and keep in your pantry. You'll love that this recipe is also gluten and dairy-free.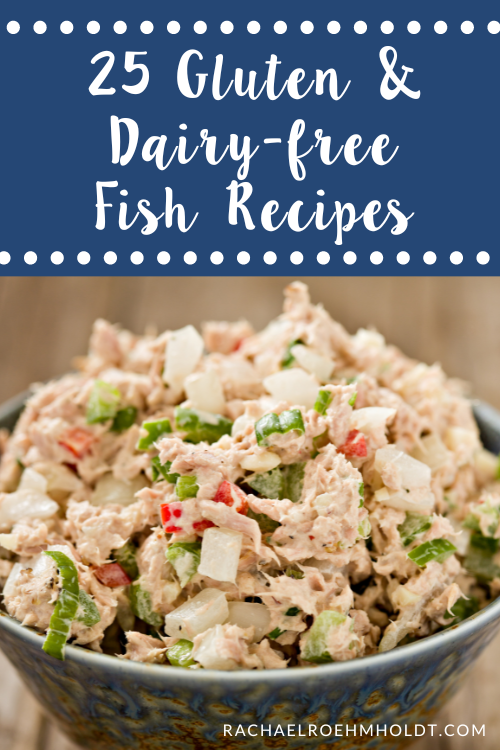 Gluten & Dairy-free Tuna Recipes
Tuna is a great fish to buy canned or fresh from the seafood department at your local grocery store.
If you've been looking for some gluten and dairy-free tuna recipes, check out these five recipes.
We've got everything from a pasta dish to tuna salad to tuna patties – there's something for everyone!
If you love pesto pasta like my family, you'll enjoy this tuna pesto pasta recipe. Made with a homemade pesto that is dairy-free, you can enjoy adding a few cans or pouches of tuna to this dish for added protein.
Just be sure to use a gluten-free pasta in place of the recommended traditional pasta in this recipe.
Tuna salad is perfect for warm weather days when you don't want to put in much effort cooking.
Enjoy this recipe with a homemade tahini recipe with all gluten and dairy-free ingredients, plus a cucumber and green onion to complete this delicious tuna salad recipe.
Tuna melts are one of my family's favorite easy dinners. They can be made as simple or elaborate as you choose.
Take this recipe for example. Spice up your tuna melt with jalapeños, added carrots, celery, and onion, as well as fresh cilantro. Just be sure to use gluten-free bread and dairy-free cheese to melt on top.
Tuna patties can be made with just a handful of ingredients and are a real crowd pleaser in a lot of households.
Enjoy these gluten and dairy-free tuna patties with canned tuna, coconut flour, salt, chipotle powder, pepper, tomato paste, red onion, garlic, and an egg.
Another super simple lunch or dinner idea is this spring Greek tuna salad.
This recipe is loaded with bright flavors like cucumbers, cherry tomatoes, yellow bell peppers, red onion, and fresh parsley, in addition to a homemade dressing full of lemon and garlic.
Enjoy this naturally gluten and dairy-free recipe for a warm-weather meal any night of the week.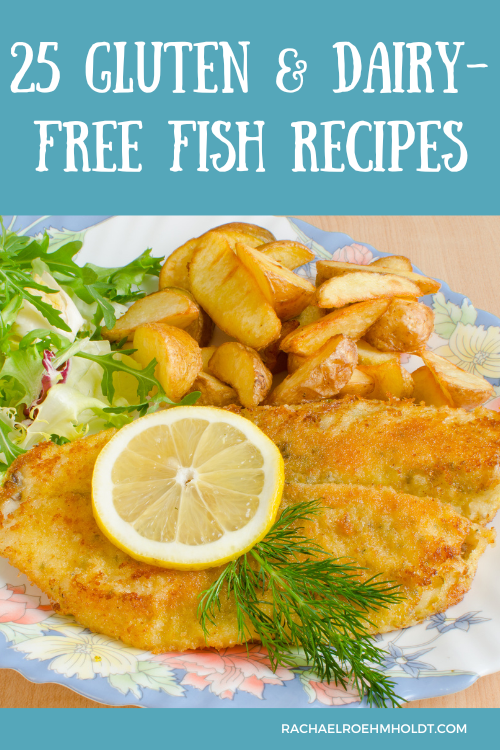 Gluten & Dairy-free Tilapia Recipes
If you enjoy tilapia, you'll love these five gluten and dairy-free recipes. This type of fish is great in both the oven or air fryer, so find a few different options here, including some crusted and marinated options.
If you have an air fryer, you'll be pleased to know that you can make a delicious gluten and dairy-free tilapia recipe quickly and easily.
This recipe calls for loads of herbs and spices, like salt, pepper, smoked paprika, garlic powder, onion powder, and Italian seasoning to give it tons of flavor.
What's better than tilapia? A recipe that coats tilapia in tons of flavor from sage and pecans.
This recipe comes together with these ingredients plus a little flax meal. You'll be shocked at how easy and delicious this naturally gluten and dairy-free recipe is!
I like any recipe that calls out how many ingredients are included, and this 6-ingredient tortilla crusted tilapia caught my eye big time.
In addition to tortillas, this recipe gets its flavor from chili powder, garlic powder, and ground cumin. You'll love how quick and easy this recipe is!
If you love skipping dishes, be sure you catch this one.
This tilapia recipe is marinated in a combination of olive oil, water, lime juice, maple syrup, seasonings, and cilantro for 30 minutes before joining loads of other veggies to cook up on one baking sheet. There's nothing better than a quick and healthy dinner!
You've got choices with this chili lime tilapia recipe. You can make it in your air fryer or in the oven, depending on what works best for you!
Enjoy this naturally gluten and dairy-free recipe with flavors like chili powder, cumin, garlic powder, oregano, sea salt, black pepper, and lime juice.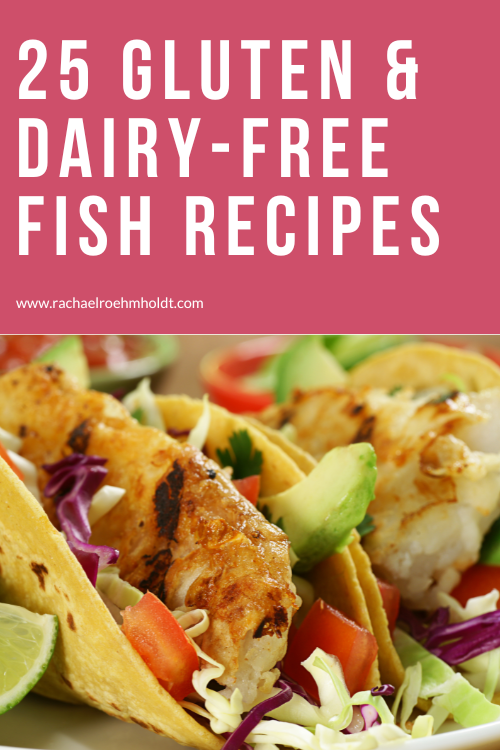 Gluten & Dairy-free Fish Taco Recipes
So many folks love fish tacos and what's great about them is that if you're follow a gluten and dairy-free diet, they're extremely easy to make and stick with avoiding these two foods.
Try one of these five recipes with different toppings to enjoy this dish at home with some variety in toppings to make them unique each time.
Fish tacos are such a popular choice in the summer months (or any time of year really).
If you enjoy this dish, be sure to check out these blackened fish tacos served with a chipotle aioli and coleslaw. Just be sure to serve them on gluten-free tortillas or corn tortillas to keep the dish gluten-free!
This paleo fish taco recipe calls for Siete tortillas, which are naturally gluten-free because they're made with almond, coconut, cassava, and cashew flours.
Fill your tacos with your favorite fish (cod or halibut works great here), and a homemade coleslaw.
These healthy fish tacos are gluten-free even though they're breaded, because they're made with almond flour instead of a traditional flour breading.
They're served alongside a dairy-free tzatziki sauce that's full of flavor with a cashew base and cucumbers, veggie broth, garlic, lemon juice, sea salt, mustard, and dried dill.
Enjoy these cod fish tacos for two with a homemade mango salsa.
Bake the fish in the oven while you make the homemade mango salsa, and have a quick, healthy, and delicious dinner made in a snap! Best of all, they're naturally gluten and dairy-free.
Enjoy these fish tacos with a flavorful white fish (either cod or halibut) that's been seasoned with tons of flavor from black pepper, garlic powder, onion powder, chili powder, and cumin.
This gets served in gluten-free tortillas or corn tortillas with a homemade slaw, and a coconut yogurt based sauce. They're gluten and dairy-free – and so so yummy!
If you've been looking for a few ways to enjoy more fish in your gluten and dairy-free diet, I hope these recipes have helped inspire you!
If you loved this post, I hope that you'll share it with your friends on Facebook and pin it for future reference on Pinterest.