Do you ever have those moments where things just come together and you can't explain it – let alone really believe it yourself?
This happened to me last week as I was out for a walk with my mom and son. We meet up at least once a week for walks at this same park that I've been going to since I was a kid. The park has changed over the years, but the location – right on the water of the inlet into the Puget Sound – hasn't.
As we were walking, we saw a couple of kayakers who had come to the shore and were just sitting and chatting. My mom said "I'd love to get out on a kayak one of these days" and I replied "Yeah, Tyler (my husband) wants to do it someday too… but I would NEVER get in a kayak in any water that whales had been in. A lake? Maybe. But not this water." And she followed it up with "well, whales are rarely here. It's only once every ten years or so. But I get your point. I'd kayak in a lake too."
The truth is that I've seen whales while at that park before. Yes, WHALES. Orca whales. Our area is sometimes graced with their beauty – but it's truly rare. And when it happens, it's like the whole world opens up and people flock to see them.
So as we made our way around the park loop a second time, I noticed a ton of cars showing up to the parking lot. And what was weird was that they weren't even pulling in to properly park. They just barely pulled in, hopped out of their cars, and were running to the shore. Completely strange.
And I said to my mom, "the only time I've ever seen anything like this is when there's something in the water."
Then we both saw it. Four orca whales swimming along the inlet on their way back out to the Puget Sound. Three adults and a baby. It was incredible. We watched as far as we could. I even got a video on my phone… except after playing it back, I realized I was so enamored watching them in person that I took video of the sky and not the water they were swimming in – oops!
And in that moment, I realized two things. One – sometimes it gives me the heeby jeebies when I say something like "whales swim in that water" and ten minutes later there are WHALES swimming in THAT water. And two – there are sometimes things that come together that you never would have anticipated, but they just work.
Now that's a terrible segue, but that's also how I felt about this new cookie recipe. At my first idea of them, I didn't think they'd work out. And then, as I pulled them out of the oven and had my first bite (I waited for them to cool a little bit), I thought "I don't know how I did it, but these are delicious!"
I had the idea to throw together a simple cookie, but didn't want to go to all the effort of mixing up flours or batters – so I tossed a few ingredients together, and tossed them on a cookie sheet to bake. I was so surprised at how well they turned out that I had to share them with you.

Walnut Coconut Orange Cookies
gluten-free, dairy-free, egg-free
Ingredients
1 cup walnut meal (grind walnuts in a blender or food processor)
1/4 cup honey
1/4 cup unsweetened coconut flakes
2 tbsp coconut oil
Zest of one orange
Directions
Preheat oven to 350 degrees F.
Line a baking sheet with parchment paper.
Combine all ingredients in a bowl and mix together.
Scoop batter in 1/2 tbsp rounds into baking sheet. Flatten each round with the palm of your hand.
Bake for 10-11 minutes.
Cool for at least 5 before diving in. Enjoy!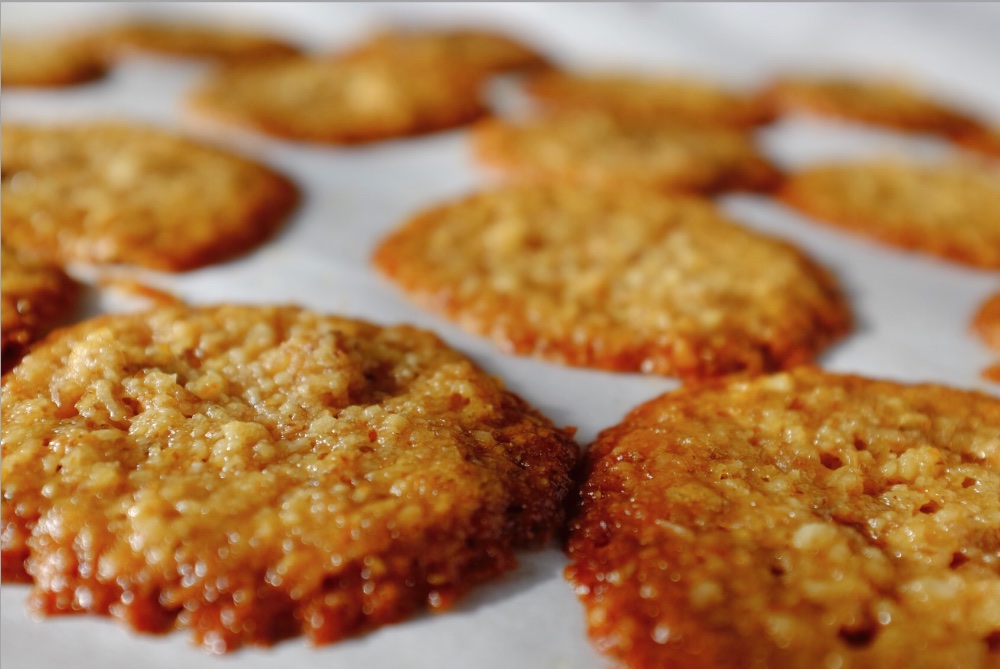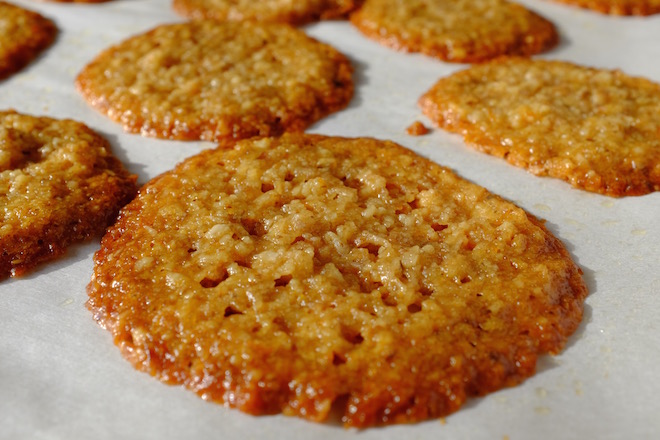 These cookies don't really bake "up" as much as they spread out. Leave a little extra room between cookies on the cookie sheet before putting them into the oven so they don't all bake together (some of mine did).
I hope you find a little magic, cookies, and unexpected happy heeby jeebies today.