This year, my family opted for a fully handmade Christmas. I shared our (sorta) handmade gift yesterday – a book of my Grandma's recipes that are all of my family's favorites. While I felt a little like a cheater that these books weren't 100% handmade, I also gave myself credit for the thought, the scanning, the placing, the editing and the printing. That has to count for something, right?
I didn't feel too great just giving those books as gifts, so I threw in a crochet Christmas tree ornament and some homemade super easy holiday bark that I whipped up on Christmas Eve for the three families. I felt like these few gifts together rounded everything out and even if the book wasn't bound by hand, at least the chocolate and the ornament were hand crafted.
I have made this holiday chocolate bark in years past with all sorts of ingredients – from rocky road flavored (with marshmallows and peanuts) to crushed candy canes for peppermint bark. It's a stupid simple recipe that almost can't be called one.
This year, I took it even a step easier and instead of combining certain ingredients for the bark, I bought some of my favorite trail mix with dried fruit and nuts from my local health food store and called that good. One less step for me – and still delicious!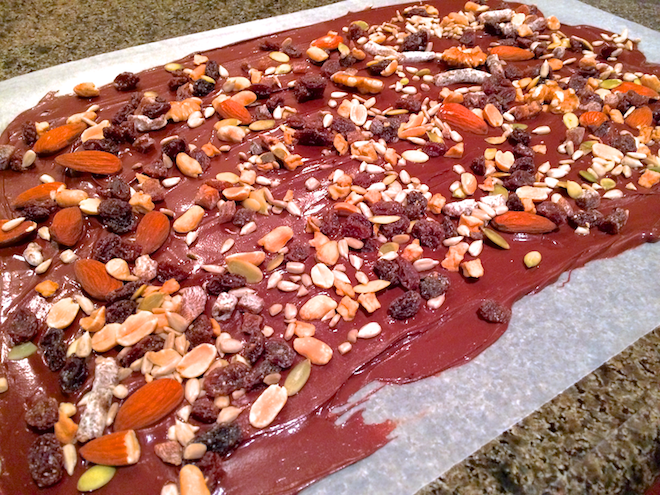 The recipe is simple – you melt some dairy-free chocolate, lay it out on a sheet of parchment paper on a cool surface, spread it very thin, then sprinkle on  your toppings to let cool for a few hours.
Once hardened, break into a few pieces and package into cute little cellophane bags for gift giving. Easy peasy – and pretty impressive!
I won't give you any particular measurements or amounts, because you can make as much or as little holiday bark as you wish – and everyone is different with how dense they like their bark toppings.
However, the method remains the same, no matter what kind of toppings or chocolate you use.
Read on: Are candy canes gluten-free?
How To Make Super Easy Holiday Bark With Trail Mix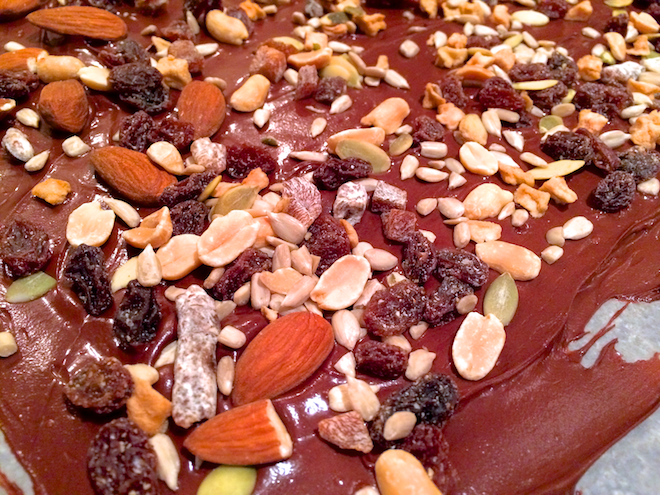 Lay a piece of parchment paper out on your counter top, weighting down the sides if the paper wants to roll up on itself.
If using a chocolate bar, prepare it by chopping into pieces with a serrated knife.
Melt the chocolate. Place 2/3 of the chocolate (either chopped chocolate or whole chocolate chips) into a microwave-safe bowl and microwave for 30 seconds. Stir with a rubber spatula then return to the microwave and heat in 30-second intervals until melted, about 3 to 5 minutes total.
Remove the bowl from the microwave and immediately stir in the reserved 1/3 of chopped chocolate or chips. Stir until the chocolate appears shiny and fully melted.
Pour the melted chocolate onto your prepared parchment paper. Using the rubber spatula, spread the mixture into an even layer.
Add handfuls of prepared trail mix evenly sprinkling over the top of the melted chocolate. Gently press into the melted chocolate.
Let the bark cool at room temperature for at least one hour.
Break into pieces and store in an airtight container at room temperature for up to two weeks or drop into gift bags for quick gifting.
Get the FREE Gluten-free Dairy-free Shopping List
Get access to the most comprehensive - and healthy! - gluten-free dairy-free shopping list around!
Plus get 5 sample gluten-free dairy-free recipes!