You know when you get into the mood to make a super healthy meal, but you don't have the time or motivation to make it happen?
Yeah, that happens to me all too often. In fact, while I try to make healthy choices most of the time – I almost always choose what's fast over what's healthy.
Which means that in my house the healthy options need to be fast. This last week, I discovered something that will ultimately save me hours of time in the kitchen – and it isn't complicated at all!
So what did I do?
I prepared a bunch of smoothie ingredients all at once so that instead of taking the 5 to 15 minutes to prep fruits and veggies each time I want one, I can grab a bag out of my freezer, drop the ingredients into my blender, add some water or almond milk and turn it on.
In no time flat, I'll have a smoothie ready for me and my hubby (and maybe even a second helping for later).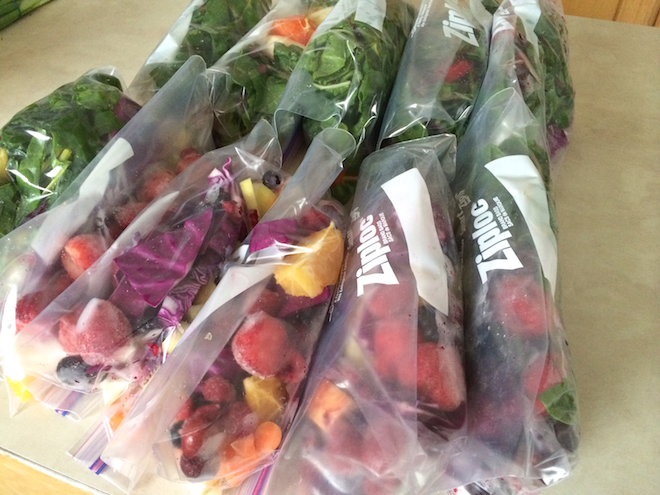 While prepping fruits and veggies for a smoothie isn't complicated, having that one extra step taken out of the equation makes getting a healthy snack or breakfast is that much easier. Even just a few minutes regained in my life is worth it to me right now with my little guy running er, laying around.
If you want to save yourself hours in the kitchen like me, here are a few tips for making smoothie packs of your own for easy grab-and-go healthy breakfasts and snacks:
Think through approximately how many freezer smoothie packs – or servings – you want to make.
I had an idea that I wanted each of my freezer smoothie packs to contain enough ingredients for at least myself and my husband to have one serving. If there was a little extra, no big deal and we could have that as a snack later in the day or the next morning. I ultimately landed on roughly 10 servings, knowing that it might not come out perfectly depending on how far I could stretch my produce.
Buy enough fruits and veggies for how many packs you decide to create.
When I made my freezer smoothie packs, it felt like a bit of a question mark of how many greens and fruit I would need. But after doing a little bit of math, it was pretty clear how much I'd need. I roughly mapped out how my ingredients would come together to get an idea of how much I'd need (although later I threw caution to the wind and just started adding things to each bag).
I knew I wanted to make about 10 packs – or 20 servings – and each smoothie required about 2 cups or so of leafy greens. I figured 2 cups is about 2 or 3 larger leafy greens, and wound up purchasing 2 bundles of chard and 1 head of red cabbage. I also knew I'd want about 1 to 1 1/2 cups of fruit, so I bought a few apples, a few oranges, a bunch of bananas, and relied on the frozen berries in my freezer to fill in any gaps I might have.
Do all your chopping at once and sort into separate containers.
This was the biggest time saver for me. Instead of chopping fruit and veg and making one freezer smoothie pack at a time, I chopped all the oranges and placed them into a bowl, then all the apples and they got their own container, and so on with the rest of the produce I had.
Chopping everything at once, and having all the ingredients laid out in separate containers allowed us to package up ingredients so much quicker. It became a chop first, drop later assembly line that worked out really well. I only regret not taking a photo of this stage, because I felt so hyper-organized (a very rare feeling for me) in that moment.
Enlist help if you can.
I could have easily done all the prep and sorting myself, but the process was so much easier with my husband chopping and sorting fruits and veg alongside me. Plus, I think it's important to share kitchen duty and meal prep, so this was a great opportunity for us to connect with each other and our food at the same time.
Have ample storage containers on hand.
Make sure that when you take on a project like creating freezer smoothie packs that you have enough storage containers. This is one area that slipped my mind and my husband reminded me while at the store to pick up a new package of Ziplock freezer bags. I plan to re-use them down the road for another batch of smoothie packs, so it's less wasteful too.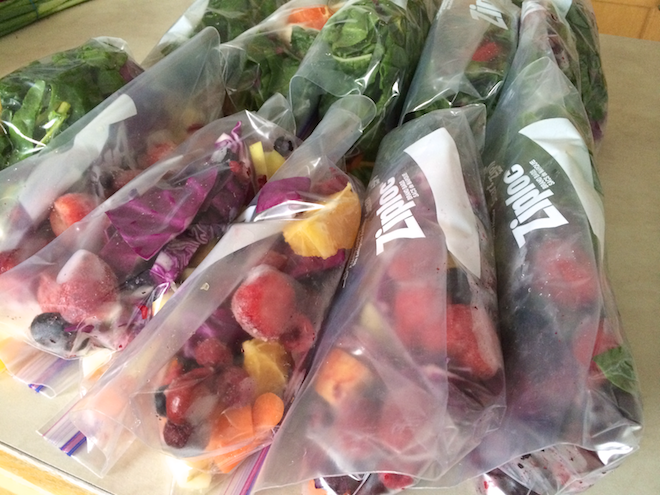 Making freezer smoothie packs has been a great way to save a bit of time in the kitchen during the week. In fact, my hubby made our first one this morning – and after he was done said "wow, we should really do that more often. I'd be a lot more likely to make and drink these if they were this easy." Score! Plus, the one we had this morning made three servings, so we each got breakfast and I have an afternoon snack waiting for me in the fridge right now.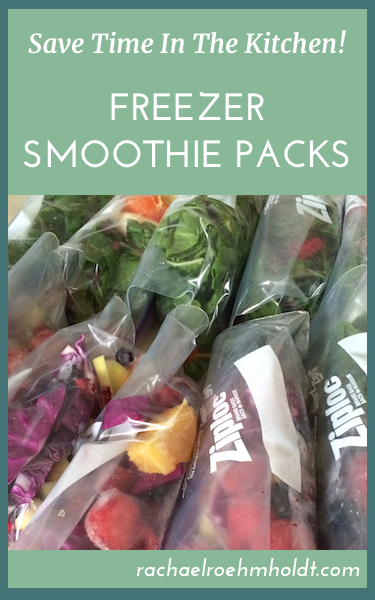 Now it's your turn – leave a comment below sharing how you like to save time in the kitchen and still get healthy meals to the table. Let's hear your best tips so we can all learn from one another.