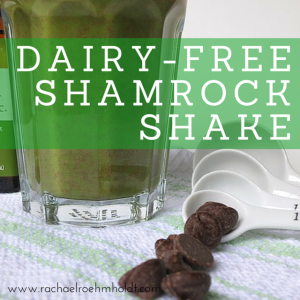 Are you a Shamrock Shake lover?
To be honest, I have never had one and don't know much about them at all.
I do know that they come around this time of year, are glowingly green, are mint flavored, and are not the best thing in the world for you.
I also know that they're made from a base of milk and soft serve ice cream.
It sounds delicious, but also like a bloat-fest and extra trips to the bathroom waiting to happen for me.
I also know this is the time of year where Girl Scouts are berating you every time you enter or exit a store – or in my case, knocking on my door.
Even though they're adorable and I should be supporting their cause (my husband would GLADLY support any cause that involved cookies!), I know that if I were to be tempted by a box of Thin Mints, I wouldn't be able to open the box without eating the entire sleeve. And again, I don't want to feel like crap for a few days just for a bunch of cookies.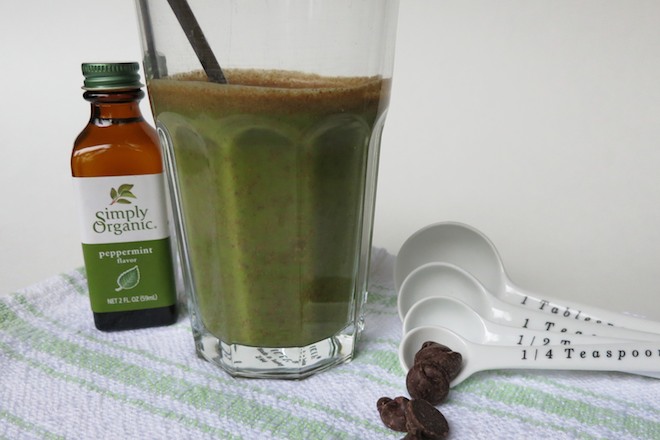 So this week, I took a cue from the good ol' Shamrock Shake and the Thin Mints that would both completely do me in – and made myself a nice healthy Franken-smoothie instead.
Enter the Healthy Chocolate Mint Smoothie (aka the Dairy-free Shamrock Shake). Not exactly a health food. Not exactly dessert. The nice in-between space where I can drink freely and feel fine about a (naturally) green treat that won't leave me hurrying to the bathroom or recovering in bed all day with head and body aches.
I can finally say that I'm "participating" in St. Patrick's Day since up until this point of my life the the furthest I've ever gone to "celebrate" is to put on a shirt that happens to have green on it.
Now that I'm a mom, I feel like it's going to be my job to make even little holidays feel special. Luckily, I have a few years to practice before my son, Soren, starts to care if I'm wearing anything green before he pinches the heck out of my arms (something this little 8 month old has already mastered).
Enjoy this healthy twist on a not-so-healthy treat – and let me know how you like it!
Healthy Chocolate Mint Smoothie aka "Dairy-free Shamrock Shake"
Serves 1-2
Ingredients
1 frozen banana
1 1/2 cups almond milk
1-2 drops peppermint extract
1/2 cup vegan chocolate chips (I like the Enjoy Life brand)
1/2 cup spinach
Directions
Add all ingredients to a blender and blend until smooth. Optionally, you can add the chocolate at the end to keep it in larger chunks.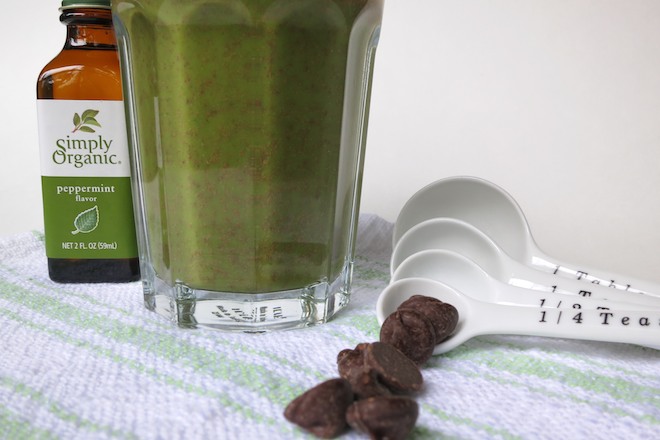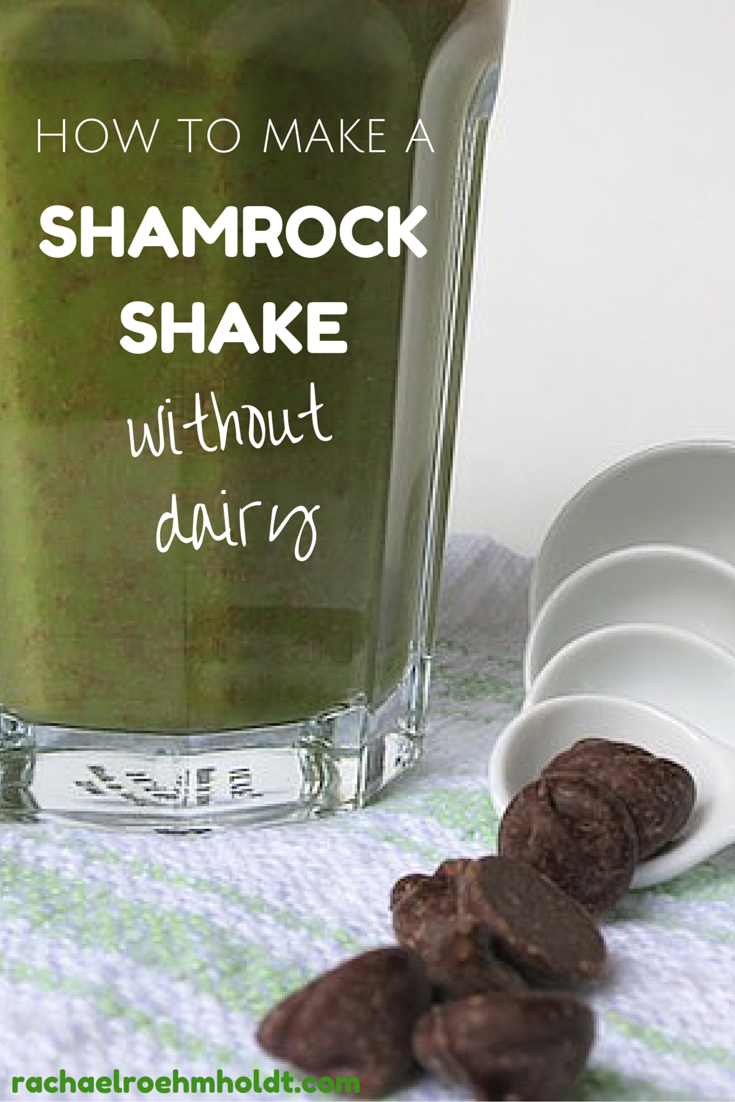 Now it's your turn to share! Do you like Shamrock Shakes? What's the weirdest thing you've ever done for St. Patrick's Day?