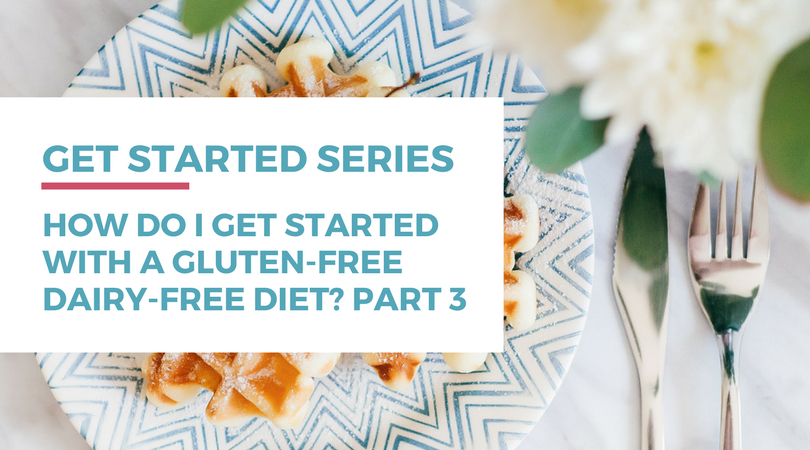 I get a lot of questions as to where to start when it comes to cutting gluten and dairy out of your diet for a gluten-free dairy-free diet and lifestyle. Since I've shared so much of my journey, a lot of you have asked questions as to how I knew it was time to give these foods up – and since I've never really addressed these questions head on, I'm doing a mini series on it this week.
The biggest questions around going gluten-free and dairy-free that I get asked are:
How do I get started going gluten and dairy-free?
If you missed the first post, I answered question 1, all about how to know if you should be cutting out gluten and dairy from your diet. And yesterday, I covered question 2, about obtaining a blood test or starting an elimination diet to find out what you're intolerant to.
Today, I'm answering the third question to help you get all the information you need to find out whether it's time for you to go gluten-free and dairy-free.
So how exactly do you get started going gluten-free and dairy-free?
This is an excellent question – and one I feel well-equipped to answer!
In fact, I have spent many hours putting together my book The Gluten and Dairy-free Diet: A Beginner's Guide to answer this question. But here goes on the quick blog post version of this answer!
Really, when you're getting started there are 4 main things you need to know:
The basics of the gluten-free dairy-free diet

How to identify safe foods and restock your kitchen for success

Arm yourself with some really great meal and snack ideas

And how to stick with this diet in the long-term
It just so happens, that these are the main topics I teach inside The Gluten and Dairy-free Diet: A Beginner's Guide.
But also, these are the simplest and easiest ways to go about changing your diet.
Learning what the basics are of what you're taking on – and WHY. I feel like often people are so often concerned with changing their diet, but they aren't rooted in why things are going on in their bodies.
So when they lose sight of their goal (ultimately feeling better), they go off track and wind up eating the foods that make them sick again. Only to have to start all over again and feel terrible.
Identifying which foods are safe and which aren't – and learning to create a kitchen that supports your new diet and lifestyle is imperative for your success with sticking with any diet change in the long and short term.
It's why so many gimmick health programs are so successful with pre-made bars and shakes – because people don't know what to eat anymore! When you set yourself up for success in the kitchen, you're going to be ten times more likely to stick with it in the long-term.
When you know what meals are safe, which ingredient swaps to make, and how to feed yourself every meal for everyday – that's when you know you'll stick with any new diet change. Particularly a gluten-free dairy-free one.
Because it is tricky to get started – there's a lot to know and a lot to relearn when it comes to preparing meals but it doesn't have to be overwhelming or difficult.
Finally, when you know how to maintain a diet – whether it's navigating tricky social situations, keeping a new diet fresh and exciting, or just keeping your spending budget in check – then you'll know this new diet and lifestyle can be a lifelong one for you.
I've created a book, The Gluten and Dairy-free Diet: A Beginner's Guide, designed to help you cut gluten and dairy from your diet with ease.
If you've been wondering how to go gluten and dairy-free, you might want to check out my book The Gluten and Dairy-free Diet: A Beginner's Guide.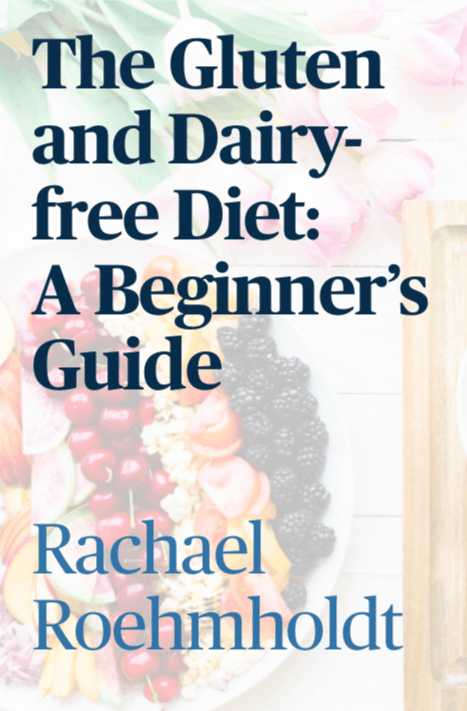 If you've decided that now is the time and you're ready to take the next step in getting your health back on track, feeling amazing in your skin, and taking a shortcut from someone who has been there before you to show you the ropes – then I'd love to invite you to grab a copy!