You know how a stressful day can often lead you to the kitchen to graze on too many chocolate chip cookies to distract and make you feel better? Yeah, me too..
If you find yourself staring at the ceiling with your eyes wide open at night, you may be a mama dealing with chronic stress.
It's certainly not surprising. I've dealt with chronic stress for many years – and can tell you it can weigh you down like those 10 pounds that won't seem to go away – not only in your daily life, but in your body as well.
Some stress quickly comes and goes, but other stressful topics – like finances, working at home, or worrying about your child's safety and upbringing can linger like a cookie coma – for far longer and uncomfortable than feels necessary.
Going through your already-hectic days as an at-home mama with chronic stress can eventually catch up to you physically and emotionally.
Did you know that stress can lead to heart disease and high blood pressure, obesity, diabetes, chronic headaches, accelerated aging, and even depression and anxiety?
These are all good reasons to learn to cope with whatever underlying stress you have going on in your life right away.
Today let's talk about managing stress through food. Because I don't know one mom who stays at home with her kiddos who doesn't need some strategies for conquering stress…
5 Foods To Eat Your Way To A Stress-Free Day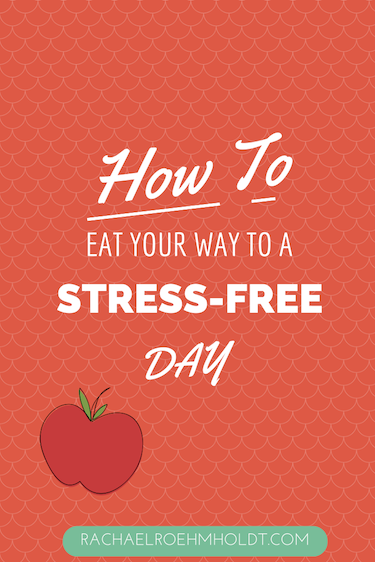 Nuts
Nuts are packed with magnesium, the mineral responsible for keeping cortisol levels low. Cortisol is the stress-causing hormone that makes you want to pull your hair out when your little guy draws on the white walls with purple permanent marker… you know the one. So grab a handful of your favorite type of nut (insert "that's what she said" joke here) as a quick and healthy snack during the day.
Green Veggies
Broccoli, chard, kale, and other leafy green vegetables contain essential B vitamins such as folate and B12, which are known to alleviate stress. Blend them into green smoothies, steam them or braise on the stove for some tasty stress relief.
Whole Grains
A bowl of brown rice or oatmeal (among other whole grains) is full of complex carbohydrates, which are responsible for producing serotonin, the same feel-good hormone that's released when you give your partner a hug or when you kiss your baby on the forehead. Have oatmeal at breakfast, a whole grain salad at lunch, or a side of your favorite whole grain for dinner.
Salmon
Salmon, or any other fish high in Omega-3's, helps your brain deal with stress by stopping stress hormones from increasing when a crazy-making situation comes up. Bake salmon in parchment paper and lemon for a healthy and stress-free meal.
Dark Chocolate
And finally, I couldn't create this list without adding my favorite stress-free food. Dark chocolate, like nuts, helps manage tension thanks to magnesium. It also has natural mood elevators – so you can get an extra boost from your favorite chocolate bar… like you needed any more reasons to love chocolate.
Even if you can't tackle all the complicated situations in your life with food, you can eat your way out of chronic stress. Just munch on a few of these foods regularly and you'll be able to manage your stress and prevent those nasty health issues that come from chronic stress.
Now it's your turn – leave a comment and share the stress-free food you're most excited about adding into your diet… I have a hunch I know which one it will be.