If there's one thing you probably don't know about me its that I am completely obsessed with sharing useful and helpful ideas and strategies of living a gluten-free dairy-free life with you.
It's kind of embarrassing really. The amount of time that I spend every day thinking about what I can share with you is (probably) borderline crazy.
While I spend 99% of my day taking care of my little guy, in the background I am constantly thinking of ways to be of service to you – and how I can help you on your journey towards living a healthy gluten-free dairy-free life.
I think about blog posts, recipes, resources I can send you. I am bookmarking other peoples content, pinning articles, and filing away notes in Evernote all day long. Im thinking of programs, services, menu plans, coaching packages that Id love to invite you to.
As I'm cooking dinner, I think about what I could share with you that you might not know already. When I'm sitting down to read to my son, I think about what I have learned on my own journey but haven't yet shared with you.
Thinking of you – and how I can help – is always on my mind.
The irony of it all is that for every one blog post, social media update, or email that I send out – theres about a million other ideas that I have filed away that I want to send to you.
Even with so many things I want to say – that I just HAVE to tell you – I have such a limited amount of time while I'm busy raising this little dude to sit down to write, record, or even post to social media all that I want to share.
Again, with limited time each week, things are slow-going, and I pride myself on delivering the very best quality I can. Keep your eyes peeled for more info on this course in the coming weeks.
With all that I have going on, I've learned that the best ideas keep coming up time and time again for me.
Today's post – this topic in particular – has been sitting on the back burner for months. Its something so near and dear to my heart, because it has saved me so much stress, energy, and time on my gluten-free dairy-free journey.
Better yet, it has helped me be a better wife and mom too.
It's a simple solution to getting healthy gluten-free dairy-free meals to the table during the week without breaking a sweat.
What is it?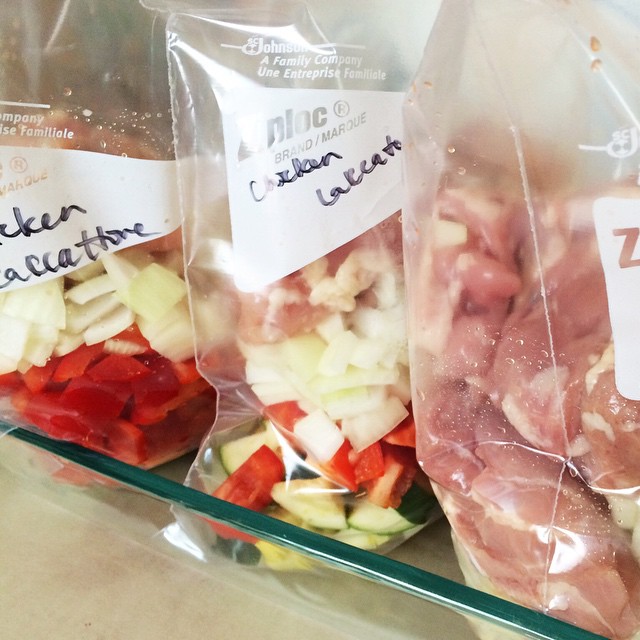 It's preparing and packaging freezer meals.

I know, I know. It's not sexy in the least.
But organizing and preparing multiple meals ahead of time to pull out and reheat either in the oven or the crockpot later has saved me TONS of time in the kitchen – and kept my family well-fed even on the "shoot-that-last-meeting-went-way-too-late-and-bedtime-is-in-15-minutes" nights.

In the past few months, my husband and I have decided that cooking up one crockpot meal each week is one of the best things we can do at this point in our family – him with late meetings, and me running around after Mr. I-Want-To-Do-Everything-Mom-Doesn't-Want-Me-To.
In early December, I made my first batch of freezer meals. I made up 12 meals and planned to cook one each week. With each bag containing 4 servings, we were able to get two meals from each bag. Or 24 meals in total for the two of us.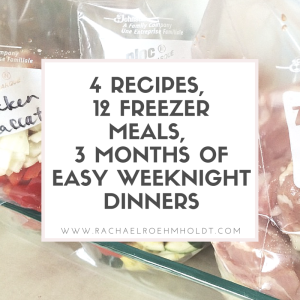 I spent a few hours in one weekend creating my meals around four recipes – each one tripled, and when I was done, I had 12 freezer meals ready to go. With my 12 meal method, we ate one freezer meal each week – and with my efforts, we had two meals per week taken care of for THREE WHOLE MONTHS!

A few hours from one weekend, saving two nights per week of cooking for three months? An amazing time-investment if I do say so myself.
So just a few weeks ago, we ran out of meals – and it was time to get going at it again. This time, I wanted to share with you the recipes and shopping list so you can replicate my process and save time too.
I've put this awesome resource together for you of the recipes I used, a shopping list for all the ingredients youll need, plus instructions for how to create these freezer meals yourself.
Now you can create your own set of freezer meals – 12 meals for 12 weeks. Even if you have a family of four, thats saving one night of cooking a week!
Happy (freezer) cooking!
Rachael