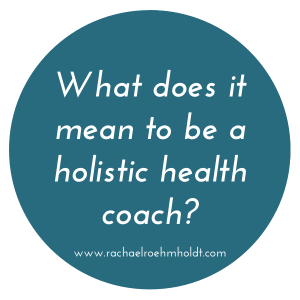 As a holistic health coach, I work with people on an individual or group basis, where we work together to identify small integrative steps they can take to become healthier. The work itself is really part listener and part recommendation-giver, and really encouraging and allowing the client to learn to listen to their own body and decide what's right for them.
There are a number of things that most of us could be doing more of, i.e. drinking more water, eating more greens, swapping out whole grains for processed foods, etc. that I make recommendations on but I don't ever tell someone how they should eat or live.
The main role of a holistic health coach is to help guide clients to live a healthy life in general, not just through their food, but in all areas of their life – and in particular, their relationships, physical activity, spirituality, and their career. For the most part, you can eat a healthy diet, but you aren't truly healthy unless all these other areas are in balance as well. These are some of the things I focus on with my clients in my programs.
Many holistic health coaches go on to work one-on-one with clients, in group formats, lead corporate wellness programs, or integrate their offerings into other wellness offices (i.e. working alongside a chiropractor, massage therapist, or acupuncturist).
Health coaches also run nutrition and lifestyle programs, write books, offer workshops, cooking classes, webinars and teleseminars, and teach corporate wellness.
Want More Information?
Enter your details in the form below and get a free catalog about the health coach training program at the Institute For Integrative Nutrition® including the current cost of the program PLUS my 28-page FAQ guide of my personal experience with the program.
You'll also have the opportunity to get in touch with me about any questions you may have about the program AND be the first to know about the latest scholarship and tuition discounts available.