Despite what it seems like here on my website, I haven't always been a health nut. I grew up on mac and cheese, peanut butter and jelly on white bread, and loads of cookies, candy and chips.
Even just a few years ago, some of my staple meals came from the drive thru at Wendy's. It's amazing how quickly you can turn your life and habits around.
In fact, despite what I say on this blog (that it's mostly about eating a gluten-free dairy-free diet), I eat the way I do and help other women do the same because HEALTH is at the forefront of my mind.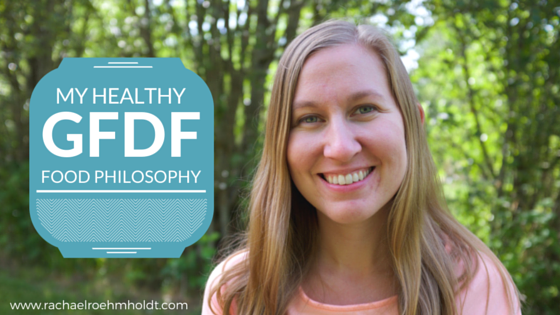 I didn't just make the choice to cut gluten and dairy out of my life because they make me sick. I also cut them out because they aren't the most nutritionally dense or healthy foods that I could be feeding my body.
When I teach women how to transition to a gluten-free dairy-free diet in my book, The Gluten and Dairy-free Diet: A Beginner's Guide, I always emphasize that while you're forced to cut these foods out… you're also given this HUGE opportunity to treat yourself right.
If you're making big changes in your diet, you really ought to do yourself one better and make some new habits to get healthy along the way.
So instead of just replacing foods with gluten and dairy for their gluten-free or dairy-free counterparts, use this change in your life to adopt some new ideas of what to eat. Open your eyes to what a healthy GFDF life might look like.
That's exactly what I did and I have to tell you, I've never been healthier, happier, or felt as amazing in my body as I do right now.
The truth is that it's easy to follow a GFDF diet that's full of junk food and prepared packaged food. But what could your life be like if you committed to being healthy with your gluten-free dairy-free diet?
I want to share with you my Healthy GFDF Food Philosophy. This will give you an inside look at what my daily diet and lifestyle are like – so you can see just how easy it is to make GFDF living easy and healthy too.
I am committed to only eating foods that don't make me feel terrible or get sick. I love myself enough to honor my body's needs.
I will eat something green every damn day.
I will choose whole grains over processed breads, cookies, and other refined flour carbs.
Fruits and veggies are a non-negotiable. Smoothies make getting them in so much easier.
I will eat whole foods as much as possible.
I will drink tons of water over any other beverages.
I am safe to indulge when I want to and not judge myself or overthink my actions.
I will drink alcohol and caffeine when it feels right and in moderation – or my highly sensitive body will pay later.
I will stay away from processed crap – but eat it sometimes too. Deprivation doesn't make the world go round.
I am sweet enough and will opt for natural sweeteners as much as possible.
I will enjoy my food and treat eating as a pleasurable experience. I don't need a TV or phone to make it more interesting.
I will take my time chewing and eating and will talk to the people sharing a meal with me. There is no rush.
I will make the healthiest choices available to me when eating out at restaurants.
Above all, I will listen to my intuition, my gut, and my body for signs and signals of what feels good and right to eat in any given moment.
Of course, I'm not perfect. This is my food philosophy – not necessarily what I'm able to achieve every day. But isn't that the beauty of it? When we're striving to be better we can get better. When we strive to thrive, we actually do. When we strive to just survive, it's often then that we're just skating by.
Having a healthy food philosophy helps me stay on track with my healthy GFDF life. It helps me be the best possible version of myself every day.
What does your food philosophy look like these days?