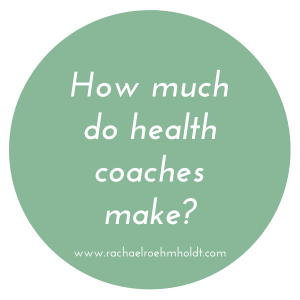 One of the most frequently asked questions I get about becoming a holistic health coach or signing up for the health coach training program with the Institute For Integrative Nutrition® is how much health coaches make or what the average salary is for being a health coach.
The amount that a health coach can make varies widely, so giving a specific answer is very difficult. For example, the amount that a person can make as a holistic health coach depends on how much time they spend coaching and marketing, whether it is part-time or full-time.
It also depends on how big their target market is – so if you specialize in working as a health coach to corporate executives, you may make a different amount than those who specialize in coaching college students.
As a holistic health coach, one of the best parts of going through the health coach training program with the Institute For Integrative Nutrition® is that you get to create your own business and determine your own rates, hours, and have the flexibility and freedom of how and when you coach. With that, you are ultimately responsible for how much you make as a health coach and business owner.
You may also choose to be hired as a health coach for a wellness center, gym, or work in another office alongside other wellness professionals – such as chiropractors, acupuncturists, or massage therapists. In this case, how much you make could be based on your client load or a fixed salary for your hours worked each week. Again, this varies based on how often you work and what the going rate is for this type of service where you live.
Want More Information?
Enter your details in the form below and get a free catalog about the health coach training program at the Institute For Integrative Nutrition® including the current cost of the program PLUS my 28-page FAQ guide of my personal experience with the program.
You'll also have the opportunity to get in touch with me about any questions you may have about the program AND be the first to know about the latest scholarship and tuition discounts available.