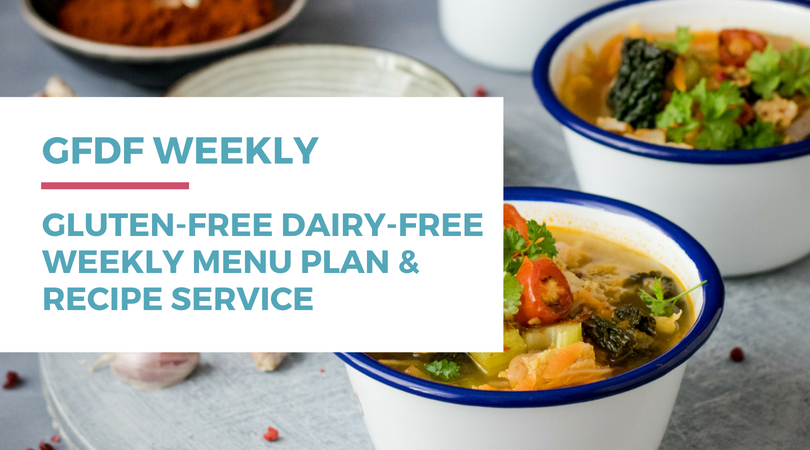 In the 5 years I've been writing on my blog and sharing tips, recipes, and advice about being gluten and dairy-free, I've sent out a number of these surveys.
And in every survey, I always ask the question "What can I create or share with you to help you on your gluten-free dairy-free journey right now?"
I'll tell you what every single time, I get very similar results.
About 20% of the survey results are about different ideas people want to see, or they're loving some of the new stuff I've been putting out – and to keep up the good work.
But the other 80% has always been (and continues to be)…
"I'd love more recipes"
"Simple recipes"
"Quick and healthy recipes"
"More meal prep and planning"
"Beginner recipes"
"Quick go-to meals"
"More dinner recipes"
You can see here just a sample of the survey results I got back a couple weeks ago and what did they want? RECIPES!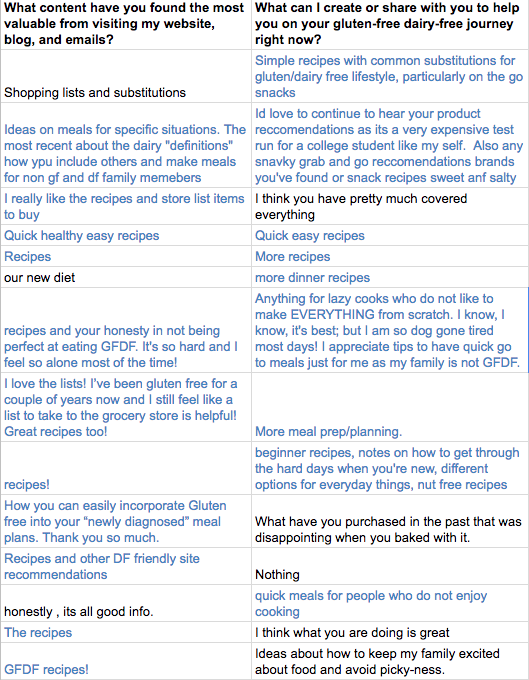 So I'll tell you this: I never really wanted my website and blog to be about recipes. I didn't want to become just another recipe blog where people gather recipes, pin pretty pictures to Pinterest, and then never make them. I never intended on sharing or teaching on this subject. It's been something I've avoided for years.
Don't get me wrong, I love this topic! I love teaching and helping women take on a gluten-free and dairy-free diet. But I wanted to protect my time and my energy. Especially while raising my little guy as a full-time mom right now. I've got a lot going on in my life
But people keep asking me over and over to deliver this. More recipes, in any way shape or form. And it's almost always surrounding dinner time, and pleasing everyone in the family – especially those who aren't gluten-free or dairy-free.
And I think it's finally time to deliver.
The truth is my son has just started up preschool and I've been magically gifted 8 extra hours back into my week – so I now have the time to do it. And all that's left is excuses.
So here goes I'm going to set up a new recipe and meal planning subscription service.
Introducing GFDF Weekly…

GFDF Weeklyis a recipe and meal planning service designed to help you save money, save time, and stay inspired with your gluten-free dairy-free diet.
With so many recipes out there,GFDF Weeklywill help you cut through the noise and conveniently bring the recipes and shopping lists straight to your inbox once a week.
Each week, you'll get:
5 new gluten-free dairy-free recipes

, plus the the convenience of not having to figure out what's for dinner this week, while giving you wiggle room for going out to eat, leftovers, or your family's favorite recipes

A combined weekly shopping list

for all the items you'll need to buy to make all 5 recipes, so you can save time and energy – and simply print the list and take it straight to the store
The best part? Everything is delivered via email with the recipes and shopping lists coming straight to your inbox. This way you don't have to wade through tons of recipe websites and blogs and spend the time getting organized. All you'll have to do is save the files, and you can reference them from your computer or smartphone or print them out and head to the store.
I want to create recipes and meal plans that suit YOUR needs. So for the first few weeks, this service will require some feedback on your part. I plan to send you everything I listed out above, then ask for your feedback in the form of a survey to make changes to the format and types of recipes I send. This whole service will be customized to what those of you who participate ask for. I couldn't be more excited to create this with you!!
If you want to know what types of recipes to expect, here's a littlesneak peekof some of the recipes you'll get when you sign up this week:
Chicken taquitos
One-pan sausage broccoli pasta
Barbecue beef & bacon skillet
Mediterranean tuna & bean salad
Mexican beef & veggie skillet
And since you know I like to add a little extra confetti and bonus material to everything I do, I'm also going to add in my "Top Recommended Tools & GFDF Ingredients Guide." Inside this guide, you'll get access to my favorite brands and ingredients that you're likely to find in the recipes I share. I won't put a dollar figure on what the value of this is, because I don't offer this content anywhere else on my website so it's completely exclusive to you and this service. But know that this content is really valuable – and you'll find a ton of great information included!
Finally, as a little incentive for the early birds, I'm going to throw in TWO more extra bonuses when you join by AUGUST 13TH:
My brand-new GFDF Take-Along Cards ($10 value).

Inside you get: The Names of Gluten, The Names of Dairy, The Hidden Sources of Gluten, The Hidden Sources of Dairy. All this comes in 2 files so you have options: a digital-only file for use on your smartphone AND a printable file to create your own on-the-go note cards.

The Gluten-free Dairy-free Money-Saving Action Guide ($10 value).

In this ebook action guide, youll learn my 21 best tips to shop, save, and live smartly while still eating what's right for your body. Save money on gluten and dairy-free foods, be able to choose healthy ingredients for meals and snacks that won't break the bank.
The cost of GFDF Weekly is going to be low, only $10 per month, because I believe that everyone deserves the convenience of having good food that suits their body's needs at a decent price.
I'd love to invite you to join me in GFDF Weekly, so you can finally get access to a variety of gluten-free dairy-free recipes that inspire you, save time looking for meal ideas, and getting organized with meal plans and shopping lists.
I can't wait to create this together!
Rachael