The past few weeks have been pretty great food-wise. With the new CSA delivery that comes once a week, we're planning our meals around what shows up on our door steps every Wednesday morning. It's amazing how much of a difference good quality produce makes in getting healthy meals to the table.
Of course, as a pregnant lady, I have been indulging here and there in some of my cravings – coconut ice cream (cappuccino flavored – which has kept me wide-eyed more than one night in a row), pickles, and loads of potatoes (in all forms). But I've also been trying my hand at some healthy fermented foods (carrots and cabbage are the ones on my list to try out this week) at home.
This week's menu will be a nice rounding out of meals that I like to keep on rotation – soups, kale salads, and meat and greens – a few of my favorite go-to meals.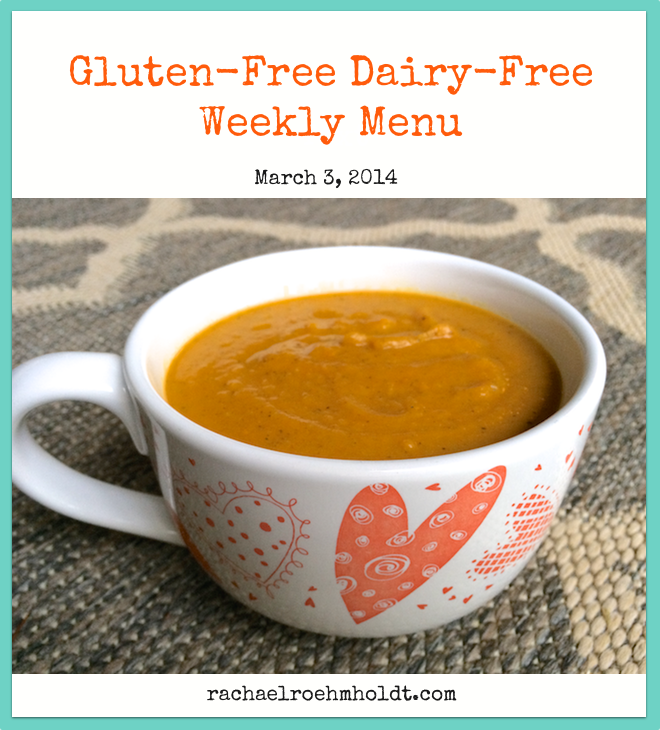 Gluten-Free Dairy-Free Weekly Menu For March 3, 2014
Breakfasts
Oatmeal with frozen fruit, almond milk & chia seeds
Gluten-free toast with homemade raspberry jam (a holiday gift) and apple slices with cinnamon
Scrambled eggs & fruit
Lunches
Broccoli & Potato Soup – add some hemp for protein
Massaged kale salad with chicken-apple sausage
Dinners
Squash, sweet potato, carrot soup (x2)
Taco salad (x2)
Chicken with braised chard and fruit
Gluten-free spaghetti & meatballs with side salads
Snacks
Pears & almonds
Trail mix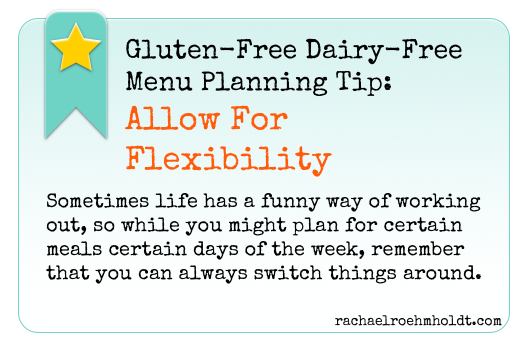 What are some of your go-to meals?