It's another rainy week around where we live. I've been falling back on some good-old comfort food for this week's menu – mini meatloaves, homemade quick bread, and I'm finally giving in to my pregnancy craving of cinnamon rolls! This week has felt a little haphazard when it comes to menu planning – I struggled a bit with getting my dinner ideas down. But each week, our CSA brings us different things and it's been great to keep me on my toes in the kitchen!
My menu planning tip this week is more for me than for you. Sometimes I need to take my own advice and stay as organized as I like to think I am. This is my reminder to start creating a huge list of go-to meals, so when weeks like this one come up – where I have very little inspiration to cook, that it's not so difficult for me to plan and prep.

Gluten-Free Dairy-Free Weekly Menu For March 10, 2014
Breakfasts
Green smoothies
Gluten-free toast with homemade raspberry jam (a holiday gift) and apple slices with cinnamon
Homemade cinnamon rolls <– pregnancy craving becoming reality (using this recipe)
Scrambled eggs & fruit
Lunches
Tuna sandwiches & salad
Zucchini fritters (using this recipe from our CSA)
Fried eggs with side salads
Leftovers from last week
Dinners
Mexican chicken bowls with taco quinoa, avocado, red pepper
Leftover chicken, taco quinoa, & kale
Mini meatloaves & mashed potatoes (x2) with side salads
Green salads with chicken-apple sausage and red peppers
Snacks
Pear oat quickbread
Green smoothies
Fruit
Popcorn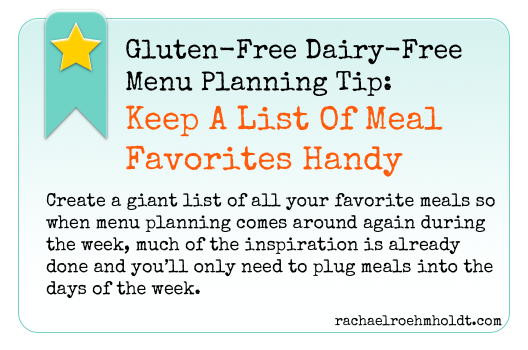 How do you keep inspired each week with your menu planning?