Eating gluten-free and dairy-free in our area seems to not be as simple as we thought it would. Following my post of how simple it is to eat healthy without a health food store in sight, I immediately started eating my own words. On our shopping trip, we found that not only does the store we planned to shop at not restock their produce regularly (i.e., barely any organic options and half or fully dead options that were left of even the normal stuff), but their natural foods section – where we do much of our shopping gets restocked even less frequently.
We've been terribly bummed about this and have been trying to come up with ways to still eat a healthy diet without resorting to frozen dinner options. While we did make a special mid-week trip to the nearest health food store, we still wound up spending close to two hours just doing some basic shopping that night. That just isn't going to fly each and every week.
In light of that frustration, we have decided to start up with a CSA style produce delivery service that also has high-quality meats available for purchase. The price is going to be a bit higher, but we're feeling like we have to choose between spending more for quality or spending relatively less for food that shouldn't be served to anyone. Apologies for being on my soapbox here, but I've been spoiled the past few years with great food and this has come as a big shocker to us after having moved.
All that said, my meals will be centered around what will be coming in our weekly produce box. I'll do a longer write-up of the service and how we like it, etc. at a later time.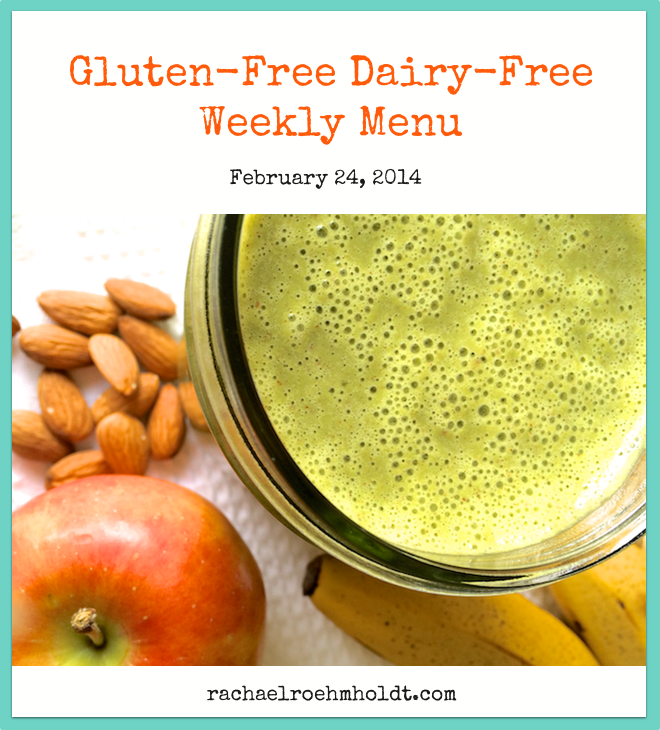 Gluten-Free Dairy-Free Weekly Menu For February 24, 2014
Breakfasts
Oatmeal with almond butter and apple slices
Gluten-free toast with avocado mash and orange slices on the side
Scrambled eggs & fruit
Lunches
Tomato & rice soup
Tuna sandwiches (with lots of pickles!) on gluten-free bread
Winter smoothies with added hemp hearts (for protein)
Dinners
Baked chicken, roasted broccoli and sweet potatoes (x2)
Spinach, sausage & apple salad (this has been a favorite lately)
Butternut squash-carrot soup with bacon & kale with side salads (x2)
BLT's on gluten-free bread and side salads with homemade vinaigrette
Snacks
Oranges & almonds
Popcorn (using the brown paper bag method)
Trail mix
Dark chocolate (yes please!)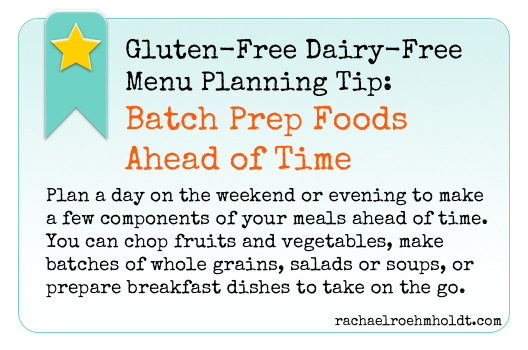 I hope these menu plans have been helpful to you! Feel free to leave me a note about what you think in the comments below!