We're just getting used to our new area and shopping trips. Lately we've been shopping on Monday evenings (another trip planned tonight), which has turned out to be a bit of a disaster, so this week we're planning a shorter menu plan so at the end of this week, we can do a Sunday morning shopping trip.
With this move, I was a little nervous about keeping up my gluten-free and dairy-free way of life, but so far even the closer more national chain stores even have some pretty good options for us to pick up without having to take a long trip to our closest health food store.
I've been trying to keep most meals pretty easy lately with some leftovers tossed in – I still haven't warmed up to the new layout of my kitchen and while I love to cook, I still don't love being in that new space. In time, I'm sure I'll enjoy spending a little more time there. For now, you'll see more crock-pot meals like the beef stew and some quick throw-in-a-bowl options like salads and quick-fix soups.
Gluten-Free Dairy-Free Weekly Menu For February 17, 2014
Breakfasts
Oatmeal with frozen berries & almond butter
Scrambled eggs & oranges
Lunches
3 ingredient pancakes & apples < yes, I sometimes eat breakfast for lunch 🙂
Dolmas (pre-made & purchased from Costco) & oranges
Salad greens with chicken-apple sausage, toasted walnuts & apple slices
Roasted sweet potatoes & green salad
Dinners
Teriyaki chicken (with homemade gluten-free teriyaki sauce) with brown rice, broccoli and chard (x2)
Beef & butternut squash stew (x2)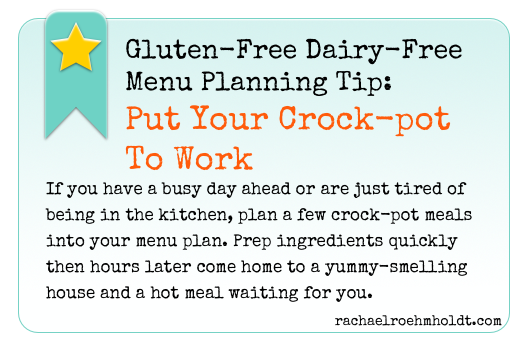 What are you eating this week?