I have been a menu planner for years, for a few good reasons. First of all, I love food and cooking. Second, when it comes to cooking, I like making sure I have everything I need on hand – it's one of the few areas of my life I'm actually organized. And third, I love to make the most of my budget each week – ensuring nothing (or at least minimal ingredients) go to waste.
By request of a blog comment last week, I'm going to start posting our weekly gluten-free dairy-free menus to help inspire those of you who are also eating a similar diet and need some yummy meal ideas. I'll keep it real here – I only plan a few meals each week and count on leftovers regularly. Breakfasts and lunches are always pretty low-key and I decide each morning what sounds good to me and what my body is asking for. Without further ado, here's our first gluten-free dairy-free menu!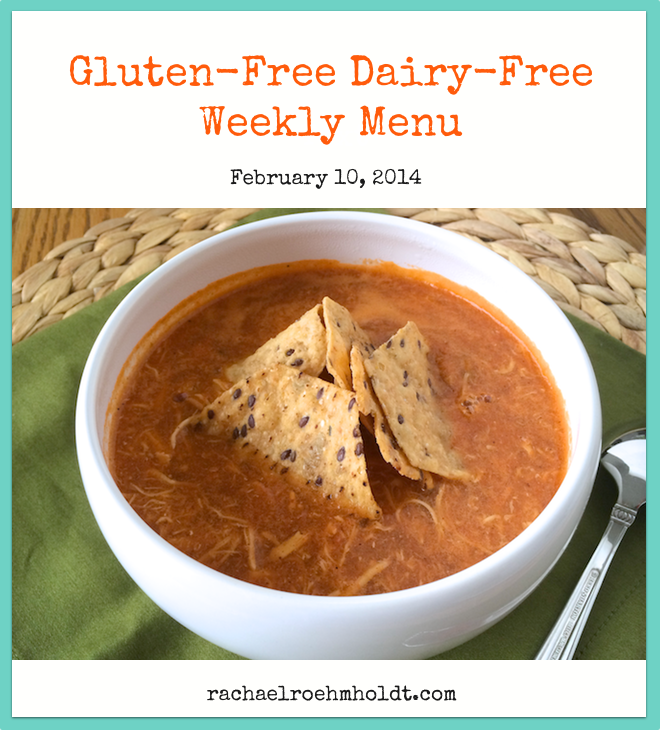 Gluten-Free Dairy-Free Weekly Menu For February 10, 2014
Breakfasts
Gluten-free toast with peanut-butter (for Tyler)
Smoothies – new Valentine's smoothie recipe coming up this week!
Scrambled eggs & apple slices
Oatmeal, almond butter, cinnamon & maple syrup
Lunches
Kale salad with quinoa, apples & walnuts
Leftover crockpot chicken into Vitamix Tortilla Soup
Dinners
Crockpot Chicken Tacos (x2) – recipe coming soon!
Sausage, Kale & Potato Soup (x2)
Veggie Stir-Fry & Quinoa (x2)
Valentine's Dinner – getting take-out (TBD) to eat at home

What's on your menu this week?