The October promotion is now over… but you can still sign up for GFDF Weekly!
Want to know what GFDF Weekly is?? Well, let me tell you…
Click here to get GFDF Weekly now!
Are you trying to find ways to get dinner to the table quickly and easily on your gluten and dairy-free diet?
Or are you just getting started with a gluten and dairy-free diet and have NO IDEA what to make for dinners?
I've got you covered!
GFDF Weekly is a gluten and dairy-free meal planning and recipe service designed to help you save money, save time, and stay inspired with your gluten and dairy-free diet.
With so many recipes out there, GFDF Weekly will help you cut through the noise and conveniently bring the recipes and shopping lists straight to your inbox once a week.
What's included with EVERY subscription of GFDF Weekly:
5 New Gluten and Dairy-free Dinner Recipes Each Week
5 healthy gluten-free dairy-free dinner recipes each week
The convenience of not having to figure out what's for dinner this week
Optional additions for your gluten and dairy-loving family members
Wiggle room for going out to eat, enjoying leftovers, or making your family's favorite recipes
Combined Shopping List Each Week
A combined shopping list for all the items to make all 5 recipes
Save time and energy getting organized for a trip to the grocery store
Simply save or print the list and take it straight to the store
A handy set of recipes and shopping list to reuse again in the future
[ycd_countdown id=224602]
Click here to get GFDF Weekly now!
Now through October 31st, you'll get extra special BONUSES for saying YES to gluten and dairy-free menu plans that are done for you!
Bonus #1: Top Recommended Tools & GFDF Ingredients Guide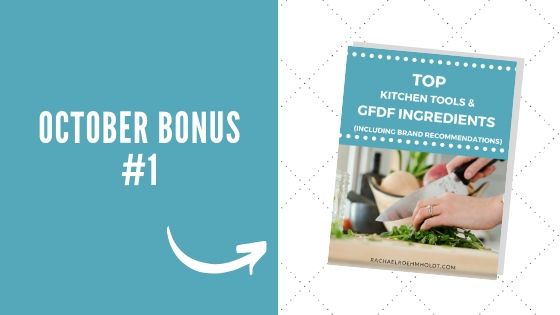 Inside this guide, you'll get access to:
My favorite brands and ingredients that you're likely to find in the recipes I share
The exact tools that I stock my kitchen with and use regularly within GFDF Weekly
What to look for in specific gluten and dairy-free ingredients
Bonus #2: GFDF Fall Cookbook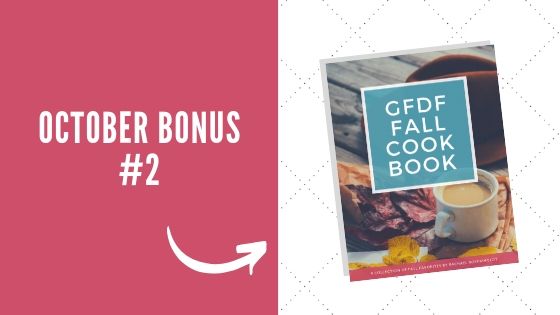 Inside the GFDF Fall Cookbook, you'll get:
25 of my very own favorite gluten and dairy-free fall recipes – all easy to prepare and don't take loads of time
6 breakfast recipes, 7 soup, stew & chili recipes, 3 salad recipes, and more – all centered around hearty, earthy fall ingredients like pumpkin, sweet potatoes, lentils, kale, and quinoa
Recipes for: Pumpkin Spice Latte, Sweet Potato Breakfast Bowl, Roasted Veggie Soup, Squash, Kale & Quinoa Soup, Smoky Turkey Chili, Curried Chicken & Quinoa Pilaf, Caramel Apple Dip – and so much more!
Bonus #3: Your Gluten & Dairy-free Guide to Halloween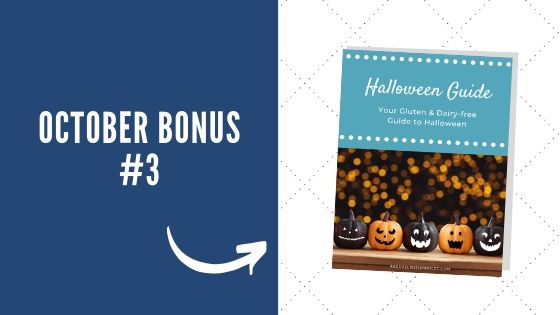 Inside the Halloween Guide, you'll:
Get my top 7 tips for sticking with your gluten and dairy-free diet on Halloween
Learn the 25 gluten and dairy-free safe candies that you can buy at the store
Find out what to do with all the extra gluten and dairy-filled candy
Get 5 of my super spooky gluten and dairy-free Halloween recipes
These exclusive bonuses are ONLY available to GFDF Weekly subscribers for THIS MONTH ONLY – through October 31st!
What People Are Saying About GFDF Weekly…
When you join GFDF Weekly, you will…
Save endless time wading through recipes online – using only pretty pictures as a guide to tell you if it's good or not
Save energy coming up with meal plans each week – I'm doing the organizing for you!
Save hours of time getting yourself organized for the grocery store – the shopping lists are included and organized by store section
Save energy meeting your family member's needs, trying to make two meals for everyone in your house – I'll give you options to add the dairy and gluten back in
Save money only buying the ingredients you'll need for dinners that week – less buying excess and less food going to waste
Click the button below to get started!