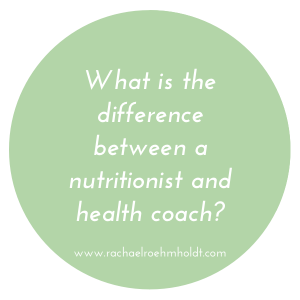 Working to become a registered dietitian or nutritionist requires a bachelor's degree (roughly 4 years), plus an additional two to three years in school and doing a hands-on internship. You also must take a test to get your license to practice (although I believe this varies by state).
Registered dietitians teach based on the American Dietetic Association and the USDA guidelines for what we should eat. Without going into much detail, these organizations are heavily funded by the largest producers of meat, wheat, corn and dairy in the country.. which means that recommendations are biased based on big agriculture corporations.
Becoming a holistic health coach through the Institute For Integrative Nutrition®, you will receive your training in one year. Not only do you learn about nutrition from a holistic approach (You'll learn about more than 100 dietary theories!), but you also gain knowledge in approaching health from a holistic mindset and that your health doesn't just stop at what you put on the end of your fork.
The program also covers other areas of your life – like your career, your physical movement, your spirituality practice, and relationships. As a holistic health coach, you'll learn to coach your clients on finding what works for their bodies and their lives, and not funded by any third party. Alongside the health component of the program, you'll also be provided with exceptional business guidance to get you and your practice started off on the right foot right away.
Want More Information?
Enter your details in the form below and get a free catalog about the health coach training program at the Institute For Integrative Nutrition® including the current cost of the program PLUS my 28-page FAQ guide of my personal experience with the program.
You'll also have the opportunity to get in touch with me about any questions you may have about the program AND be the first to know about the latest scholarship and tuition discounts available.