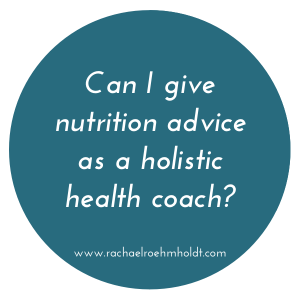 One of the questions I get asked the most about becoming a holistic health coach through the Institute For Integrative Nutrition® is "If you're not a nutritionist or a registered dietician, when it comes to giving advice on food, health and wellness, how do you ensure it won't be taken as "nutritional advice" versus just a recommendation?
You'll learn a lot more detail when you are in the health coach training program. Upon signing on with you as a client, each person must sign a program agreement and this clearly outlines that any advice given to a client is just that – advice and isn't to be taken as medical advice.
One of the great things about IIN™ is that they encourage you to really listen to your clients and not tell them what they need to be doing, because each person only really knows themselves and their bodies more than anyone else around them.
You can have a certain angle or idea that you believe in more than others, but the clients choose what they put in their own bodies – nobody is shoving greens down anyone else's throats!
When it comes to providing advice, there are legalities that need to be followed on a state by state basis. You can do a quick look on your state's policies here. However based on your state, you may need to purchase liability insurance in order to provide nutrition advice within the bounds of state law.
I know you can purchase this in a few different places, but the one that I've heard the most talked about from other coaches is through International Association of Health Coaches (or IAHC). You can find out more about their service
here
.
Want More Information?
Enter your details in the form below and get a free catalog about the health coach training program at the Institute For Integrative Nutrition® including the current cost of the program PLUS my 28-page FAQ guide of my personal experience with the program.
You'll also have the opportunity to get in touch with me about any questions you may have about the program AND be the first to know about the latest scholarship and tuition discounts available.