Ahh, the birth control pill. The seeming gift from heaven that supposedly regulates periods, PMS symptoms (like acne and terrible cramping), and of course – prevents babies. At least that's why I went on it. In the past few months, I started taking note that my body was ready to start making a change again. It was time to move away from the pill and find a more natural way to deal with all the things I was masking.
I'd have to go back to the drawing board on how to prevent those babies from coming. Not at all rocket science – despite the fact that it kept me up at night when I was considering going off the pill. Between the Fertility Awareness Method and good old prophylactics (sorry mom), it was easy to prevent pregnancy. But the other areas I was scared to death of – like mood swings, major acne and terrible period cramps had me shaking in my boots the day I stopped taking the pills.
What I found was that I had been living for so long thinking that this magic pill was solving all my problems that I didn't trust that my body knew how to regulate itself enough to keep me even-keeled on all fronts. When I did finally take the leap, I was surprised by some of the things that happened to my body and my mind as a result.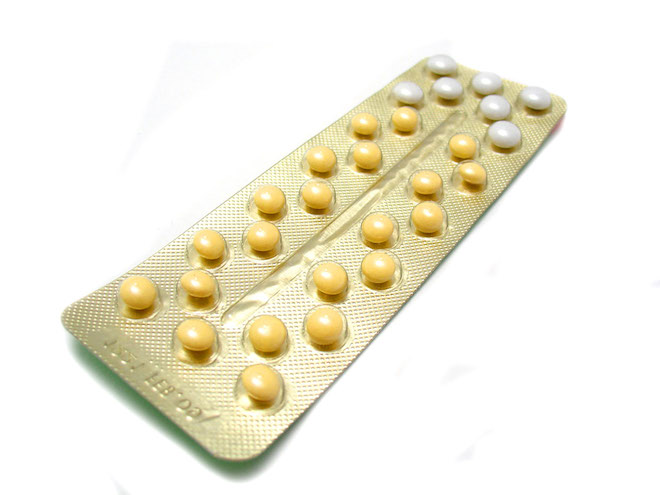 Here's my quick rundown of the five surprising things that happened when I stopped taking the birth control pill.
1. My sex drive came back.
This sounds terribly personal – and it is (so is the rest of this blog post!). However, it's real and honest. I had been on the pill from ages 19 through 27 and I'd say about 90% of that time, my sex drive was lower than low. I was uninterested, unsatisfied and frankly a snooze in the bedroom. Don't worry – things are better now, which is why I can say all this with confidence.
I was actually quite shocked when just a few days after being off the pill, it felt like I was a teenager again. For so long, I didn't realize that my libido was low – I knew that I wasn't as frisky as I thought I should have been, but I also thought that everyone was different. That maybe I was just destined to be the woman who didn't feel sexy all the time. All this changed in just a few days and weeks. I remember saying to my husband "If this was the solution all along, I should have gone off these things a long time ago!"
2. My acne cleared up.
One of the main things I started noticing in the months leading up to my decision to stop taking the pill was that my acne was starting to get worse and worse. I was determined that underneath something larger was going on. What if I had PCOS but I never had the opportunity to see the symptoms, because they were masked under the pill? What if my hormones were so incredibly screwed up and I'd never know it until I made a change? What if when we really wanted to conceive, I would have to wait years to get my body back to its proper child-bearing state again?
Truth be told, acne has been something I have dealt with my entire life (I actually had my first zit at age 7) and I'm terribly sensitive about it. More so than you'd expect and more so than I like to admit sometimes. So this was one of the major pain points when I was deciding to move away from the pill. I was scared my acne would get even worse.
Luckily, it took a few weeks, but some of the major acne flare-ups went away. Overall my skin was noticeably more glowing and less red. I was over the moon. Of course, I still break out – I don't think any more changes to my diet or lifestyle will make it completely go away, but it's an improvement and I'm super happy about it.
3. My periods lightened and shortened.
When I went off the pill, I had thought that my cycle was the "standard" 28-day cycle with a 5-day period. It's incredible what actually happens when you let your body do what it wants to do. The first month, I got my period right away – I didn't have a few months without my period (which is something I anticipated while my hormones leveled off). Luckily, I had been eating really well and it came back with no issue.
I came to find that my cycle wasn't 28-days like clockwork – a fallacy that I think most women believe is true. I had a few months where it was 30 days, others 32, and others even 36. Nothing was wrong with me, it was just my body doing it's thing and doing what it needed to do and when.
I also found that my period lasted only 2 to 3 days and wasn't nearly as uncomfortable, long or heavy as it was while I was on the pill. Now (of course in hindsight), I'm convinced that our bodies know exactly what they need – and if it's a long period or a short-period, it is sending clues as to what we need to do to take care of ourselves optimally.
4. My stress levels improved.
I've always been a little ball of stress. I know some of it comes with the HSP territory, but I also tend to hang on to stress (big or little) more than a lot of other people I know. I tend to feel tight in my body and mind when I'm stressed and an interesting side effect of being on the pill was that making me even more high-strung too.
After I stopped taking the pill, I noticed that after a few days of feeling a little under the weather, I started to perk back up. I was a lot more even in my moods and particularly my stress levels. I wasn't taking everything going on around me and letting it manifest as much. I attribute this to the fact that I was feeding myself pills to tell me where I should be hormonally instead of allowing my body to naturally produce what it needed to and when. It was this underlying tension beneath the surface that shot my stress even higher.
That difference between letting my body organically move through my stress and my hormonal changes and forcing a regimen of specific amounts of hormones in my body at any given time manifested physically in my stress. I'm happy to say this one has made a world of difference for me!
5. I lost weight.
What woman wouldn't be pleased to read this one? Truth be told, I never thought I needed to lose weight while I was on the pill (nor do I now). This was one of those results that shocked even me. I thought that most women lost weight when going on the pill, but I actually lost it when I went off of it. I noticed about a 5 pound weight loss just from going of the pill – and I can tell you exactly where it came from: my chest area and my belly. Later I read that the pill causes most women to retain more water than average – which easily explains the quickness that I noticed the difference in my body.
During this time, I was also working out a little harder than I normally do so that could have lead to the rapid decline as well. However, I had been working out before making that transition off the birth control pill and only saw that rapid decrease after stopping use.
These are just a few of the things I noticed when making the transition off the birth control pill when I finally decided it wasn't right for me.
Have you made the switch from being on the pill to going off of it? Were your experiences similar or different than what I shared?