Green smoothies are an excellent healthy habit to add to your life, but adding more time in the kitchen probably isn't something you're looking for in your life (who is?!). At this point in my life, with a 9-month old kiddo at home, I have very little time to myself – let alone time to be hanging around in the kitchen all the time.
With that said, I never want to scrimp on eating healthfully. It's one of the things I'm the most passionate about – eating well means I'm living well, setting an example, and feeling my best. Green smoothies are an excellent way for me to get a ton of nutrition in a very quick and simple manner. Chop a few fruits and veggies, toss them into the blender, turn it on and off, then pour and drink. This health food couldn't be simpler.
Save some time in the kitchen and reap the health benefits of drinking green smoothies with these 10 tips.
1. Prep ingredients ahead and store them in the fridge.
An easy way to make sure you have ingredients ready for a busy morning or afternoon snack is by preparing ingredients the night before or once at the beginning of the week. Chop fruits and veggies and keep them in sealable containers for an easy drop and blend in the blender.
2. Make freezer smoothie packs.
This is one of my favorite tricks for staying on top of my green smoothie habit when life is incredibly chaotic. Toss chopped fruit and veggies in plastic bags for easy smoothies. Just add frozen smoothie pack, water and turn the blender on. For more tips on how I create my smoothie packs, click here.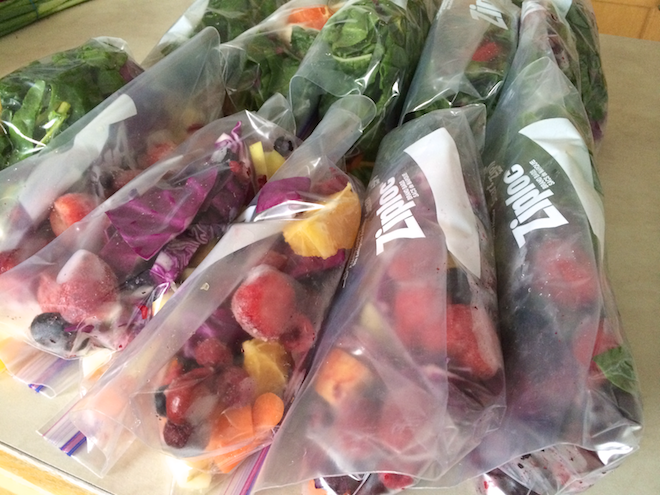 3. Make smoothies ahead of time.
When you know you won't have time later in the day to prep smoothie ingredients or spend any time in the kitchen, make your smoothie and put in the fridge. I love using old Kerr canning jars with the screw-top lids to keep them fresh. You may have heard that fresh smoothies are always best, but a two-day old smoothie from the fridge is still better than a bag of chips from the grocery store.
4. Keep the basic ingredients on hand.
An easy way to keep your healthy habit of drinking green smoothies up is to keep fruits and veggies you love adding to smoothies in your fridge and pantry. I often find that if I have the ingredients on hand, I'm much more likely to make my green smoothies, so the fresh ingredients don't go to waste. Plus you can cut down on your trips to the store for specific ingredients.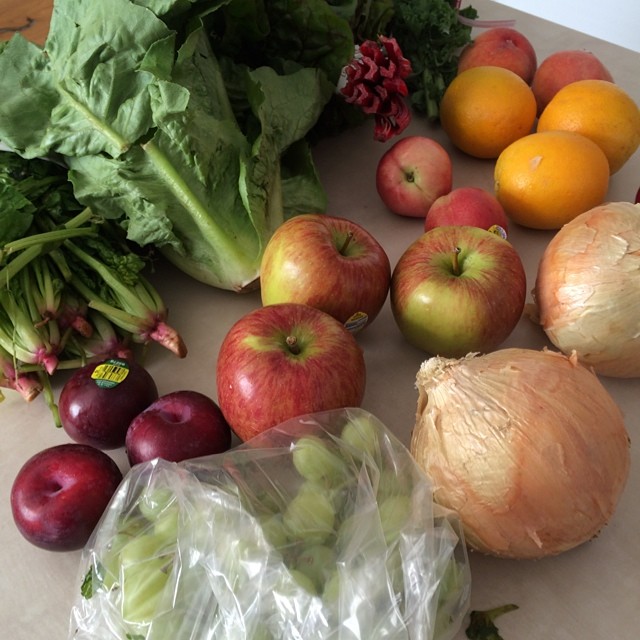 5. Freeze peeled and ripe bananas.
Ever thrown away a perfectly good banana because you didn't eat it in time? Peel them up and place them in a sealable freezer bag for easy additions to your smoothies. You'll save time prepping, plus cut down on your food waste.
6. Grab prepared fruit and veggies from the store.
While I'm normally a fan of prepping my own fruit and veggies, sometimes convenience wins out as a mama. Buy frozen fruit, pre-washed greens, or chopped fruit for making green smoothie time even faster.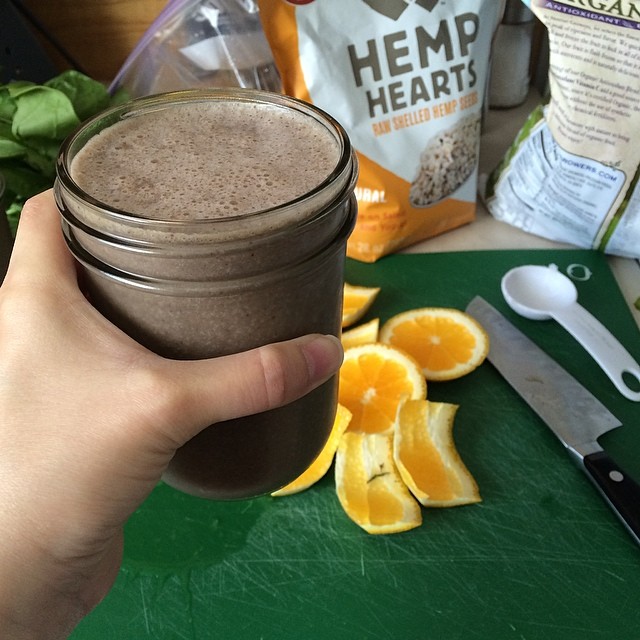 7. Don't worry about measuring.
Perfectionism doesn't exist in the green smoothie world. Don't worry about getting the absolute perfect amount of spinach or bananas into your smoothie or waste your time with measuring cups and spoons. Treat your smoothie like a work of art and use your creativity to decide how much of an ingredient to add.
8. Perfect a smoothie you like before getting too creative.
Instead of trying 100 different smoothie recipes, find one that you love and keep at it until drinking green smoothies becomes a habit. We often tend to get caught up in trying a million different things and then get burned out by how long we spend in the kitchen trying to make something perfect. Establish the habit, then get creative.
9. Make a double batch.
If you're already in the kitchen prepping ingredients, make a double batch of your green smoothie. Save the second one for later in the day or tomorrow – or if you're feeling extra generous, share it with your partner, kiddo, or a friend.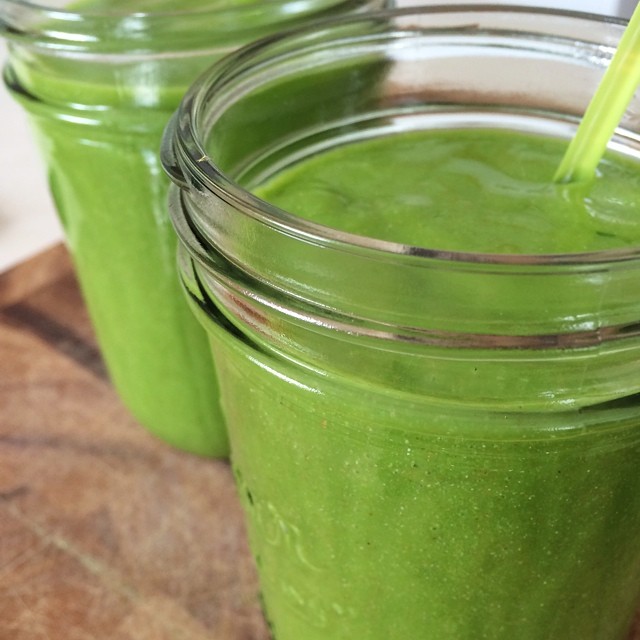 10. Do your best and iterate next time.
I've had many failed attempts at smoothies that didn't turn out tasting amazing. Instead of getting hung up if your smoothie doesn't turn out tasting how you expect it would, drink up – and plan to make the next one better. Chances are, you'll learn what you love – and don't love – through trial and error, not adding ingredients to try to fix one that you don't love.
Getting in the habit of enjoying green smoothies is an easy way to make sure you're getting your fruits and veggies regularly. You'll feel energized, vibrant, and at ease when you set yourself up for healthy success with these simple tips.
Now it's your turn – which one of these tips do you plan on trying out to make green smoothies a habit in your week? Share in the comments below!